National Bureau of Economic Research
Conducting and disseminating nonpartisan economic research
Latest from the NBER
lecture
Innovation that takes place within firms — such as adoption of new technologies, introduction of new products, and application of R&D — can be a key contributor to economic growth. Data on patents and other metrics have facilitated the study of innovation in advanced economies. The same forces can play a central role in developing nations. At the July 2022 meeting of the NBER Development Economics Program, Research Associate Eric Verhoogen of Columbia University reviewed current research on "Firm Level Upgrading in Developing Countries" and outlined opportunities for future study.
news article
Four new working papers distributed this week report on the economic, health, and related consequences of the COVID-19 pandemic and public policies that respond to it. One explores the effect of expanded unemployment benefits during the pandemic on job-finding and consumer spending (30315), while a second shows that e-commerce platform buyers were less likely to purchase from sellers with Asian-sounding names in the early months of the pandemic (30344). One documents misperceptions of COVID-19 risks during the first year of the pandemic and offers several explanations for them (30353). Another analyzes historical inflation dynamics and estimates the permanent and transitory components of the US inflation shock during the pandemic (30357).
More than 585 NBER working papers have addressed various aspects of the COVID-19 pandemic. These papers are open access and have been collected for easy reference. Like all NBER papers, they are circulated for discussion and comment, and have not been peer-reviewed. View the papers in reverse chronological order or filter by topic area.
A research summary from the monthly NBER Digest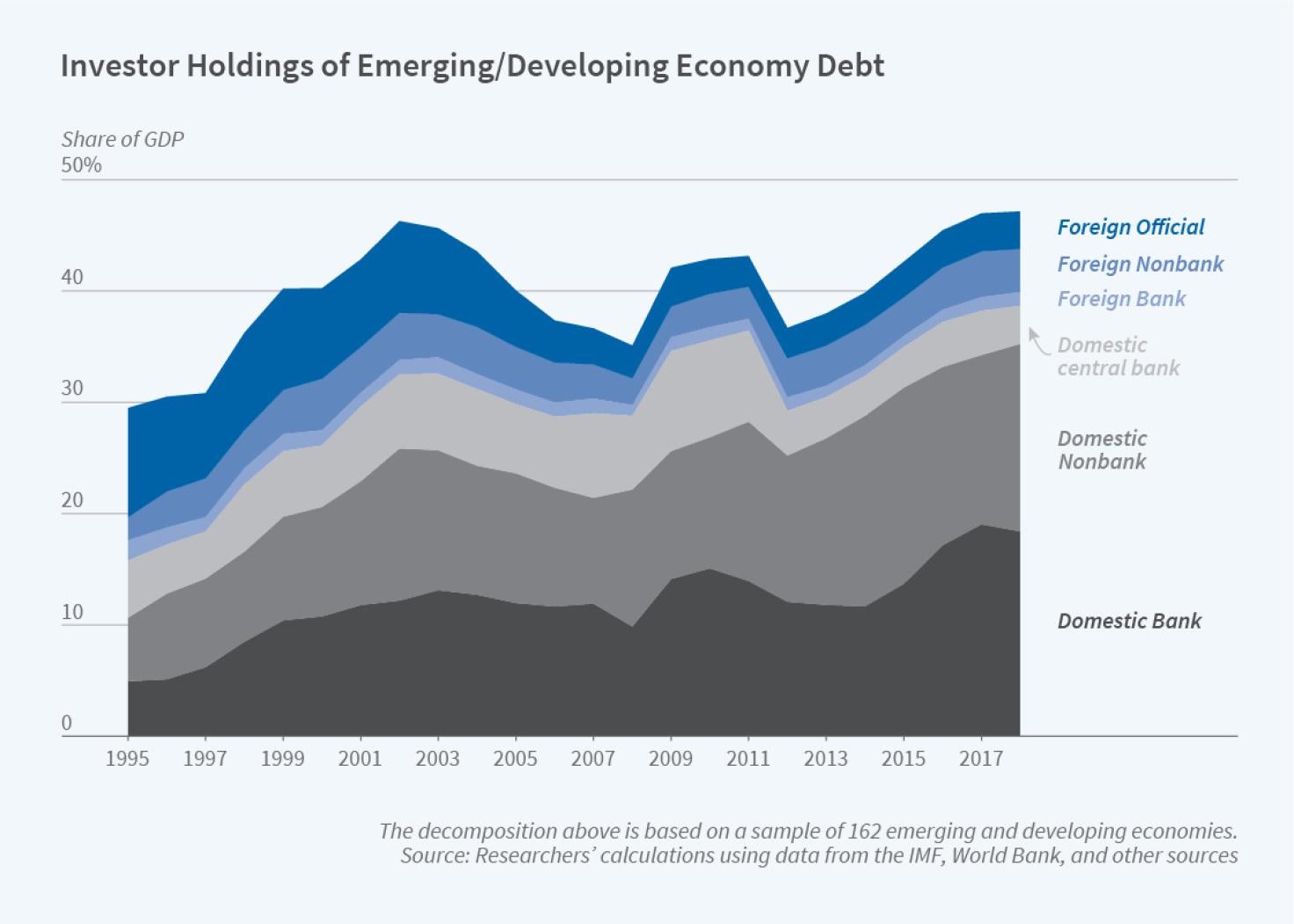 article
National governments that finance their activities by issuing debt must find someone to buy it. The interest rate they must pay to borrow depends on the cost of attracting new buyers, a cost that generally rises along with the outstanding stock of debt. Due in part to government responses to the COVID-19 pandemic, the aggregate government debt-to-GDP ratio is now at its highest level since 2003. Outstanding government debt now exceeds GDP in advanced economies, and is greater than half of GDP in emerging economies.
In Who Holds Sovereign Debt and Why It Matters (NBER Working Paper 30087) Xiang Fang, Bryan Hardy, and Karen K. Lewis use International Monetary Fund (IMF), World Bank, and Bank for International Settlements data...
From the NBER Bulletin on Health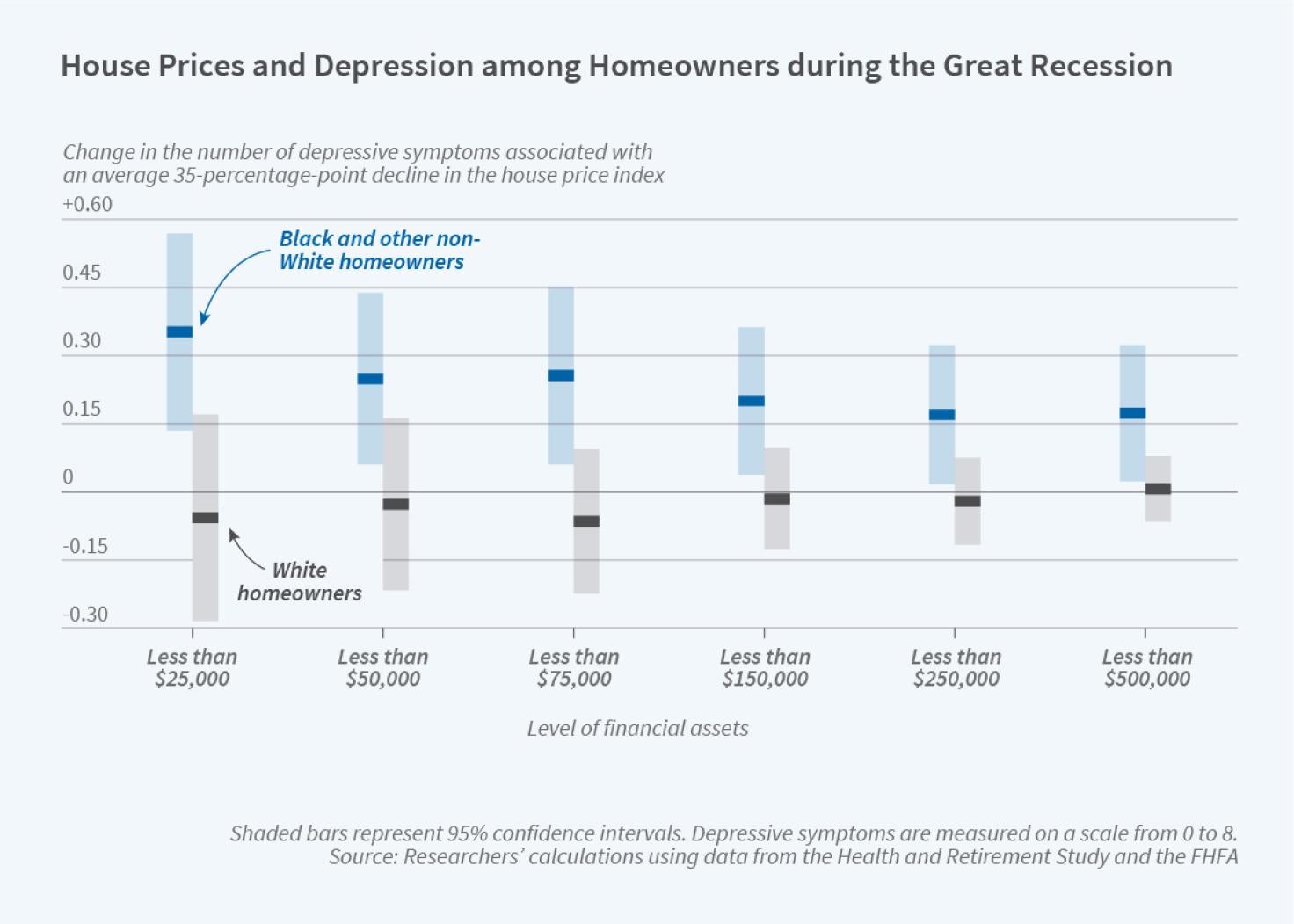 article
US house prices fell by 34 percent between 2006 and 2012. But the downturn was more severe in some parts of the country than in others. For example, home values in Phoenix and Las Vegas dropped by 46 and 60 percent, respectively. In contrast, house prices in Pittsburgh and Buffalo didn't fall at all, instead increasing by 5 and 6 percent over this time period.
How did the overall housing downturn, and the associated Great Recession, affect mental health among older adults? In Economic Crises and Mental Health: Effects of the Great Recession on Older Americans (NBER Working Paper 29817), David M. Cutler and Noémie Sportiche show that consequences varied with financial stability and race. To…
From the NBER Reporter: Research, program, and conference summaries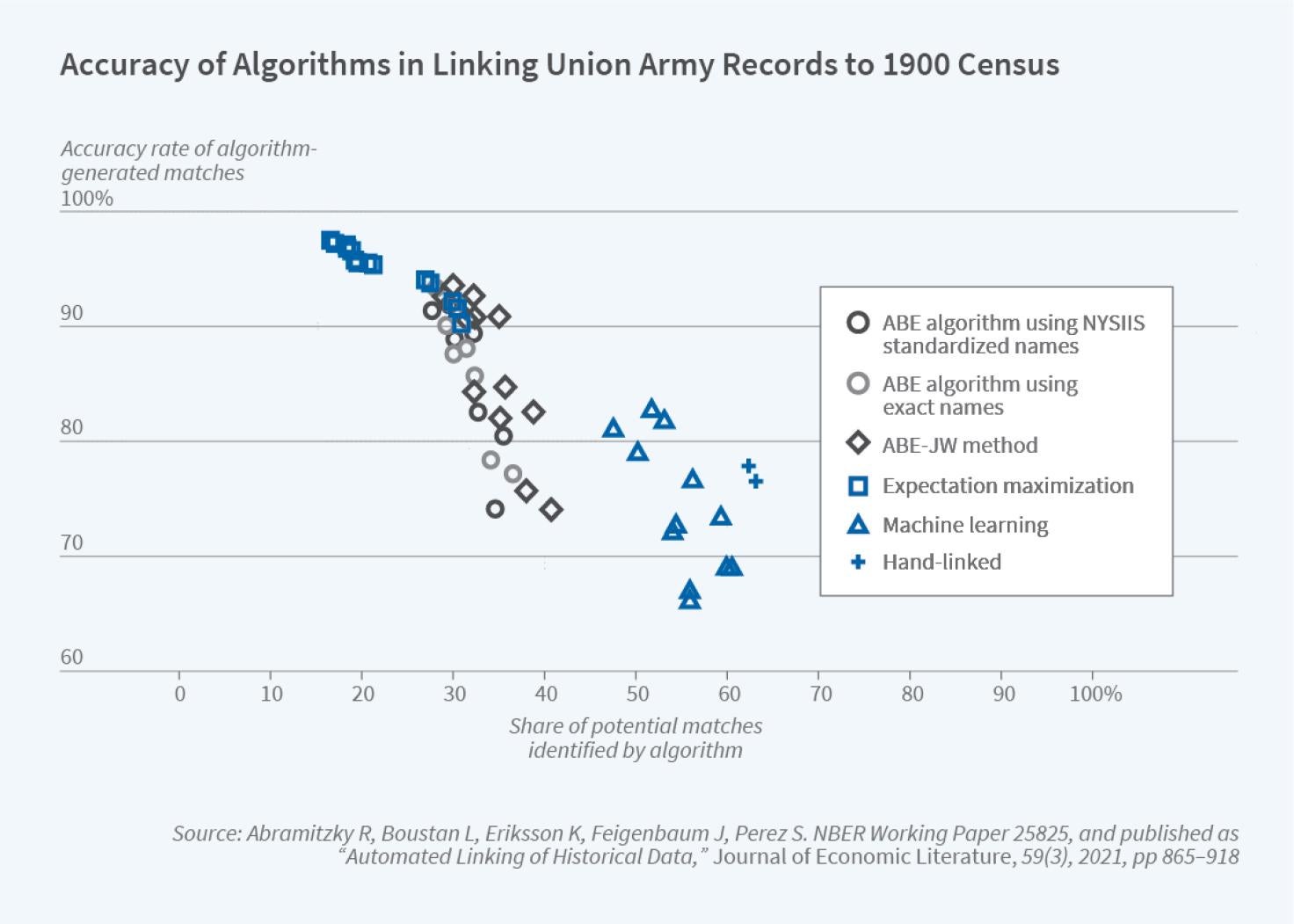 article
Individual records from the 1950 US Census were publicly released on April 1, 2022. Economic historians had been waiting for this day for 10 years. This data source, like the individual-level data from earlier censuses, makes it possible to locate the information reported by a specific person.
I found the records for my grandparents along with those for my mother, who was born in December 1949. They lived in rural Lincoln County, Kentucky. My grandfather, Bernard Camenisch, born in Kentucky to a Swiss father, worked 92 hours the previous week as a dairy farmer. A decade earlier, in the 1940 Census, he was living with his father, also a farmer; he worked 60 hours the week prior to answering that census survey. My grandmother Dorothy was a "sample line respondent," and so…
From the NBER Bulletin on Retirement and Disability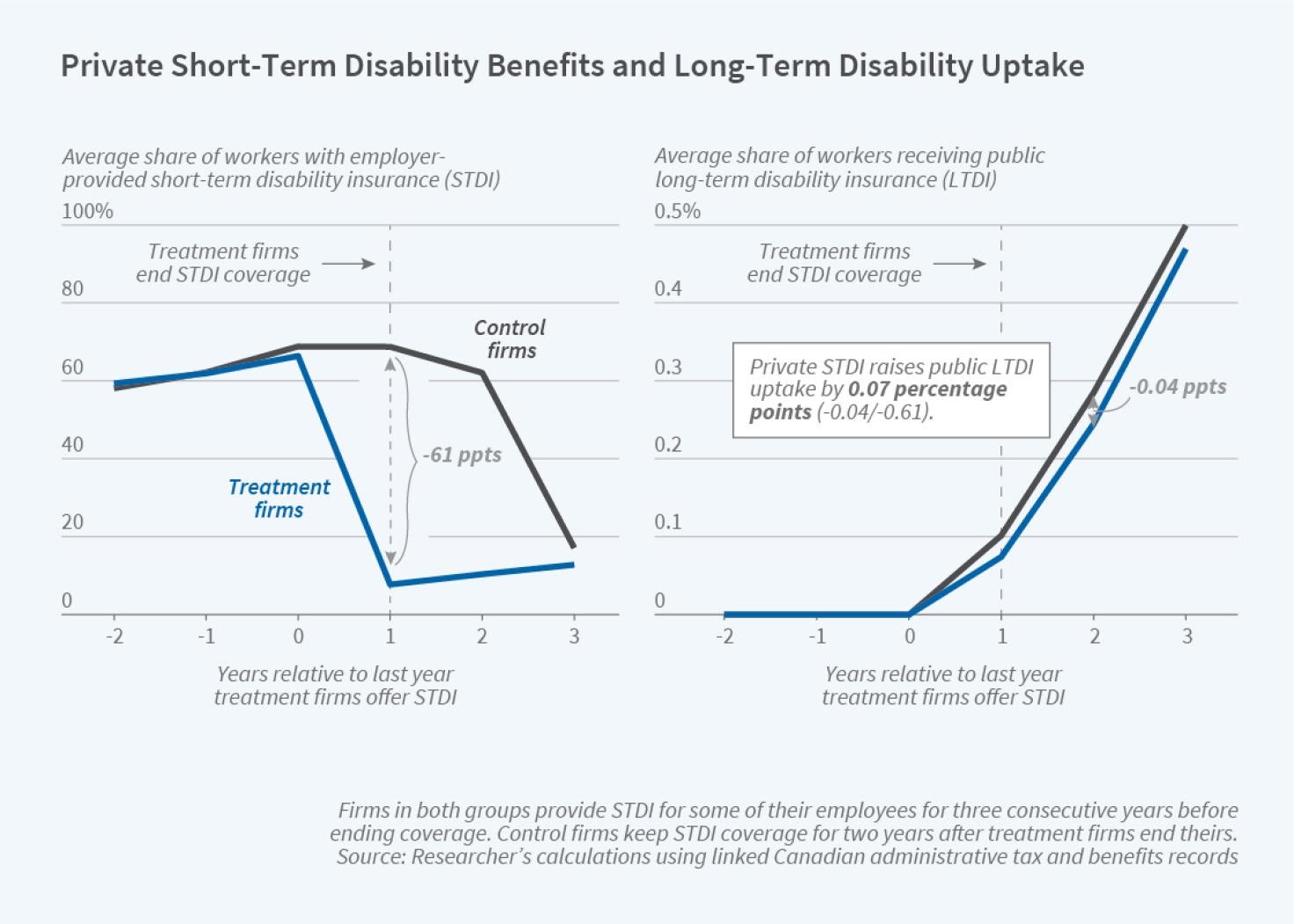 article
Forty percent of US workers have access to employer-provided short-term disability insurance (STDI). This insurance generally pays benefits to disabled workers during the five-month waiting period between disability onset and when Social Security Disability Insurance (SSDI) benefits can commence. By providing income during the waiting period, STDI may encourage more disabled workers to apply for SSDI, leading to more SSDI awards. However, employers who offer STDI have a stronger financial incentive to offer accommodations to disabled workers to help them to remain on the job instead of taking up STDI benefits, which could reduce SSDI applications and awards.
Examining the effect of STDI access on SSDI applications and awards is challenging, since workers with and without STDI access may differ in ways that affect…
From the NBER Bulletin on Entrepreneurship
article
In Private or Public Equity? The Evolving Entrepreneurial Finance Landscape (NBER Working Paper 29532), Michael Ewens and Joan Farre-Mensa survey the changes in the US entrepreneurial finance market over the last two decades. Their study begins by describing the differences between publicly listed and private firms, and then explores how several regulatory, technological, and competitive changes affecting both startups and investors have affected the costs and benefits of going public. The paper emphasizes the growing costs of the disclosures required of public firms, and also observes that major technological changes have reduced the initial capital investment…
Research Projects
Conferences
Books & Chapters
Through a partnership with the University of Chicago Press, the NBER publishes the proceedings of four annual conferences as well as other research studies associated with NBER-based research projects.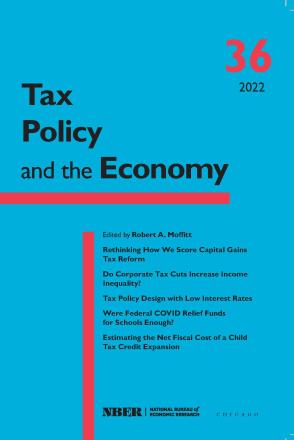 Book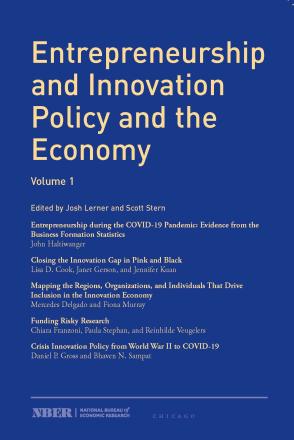 Book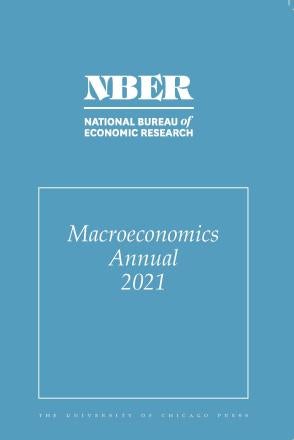 Book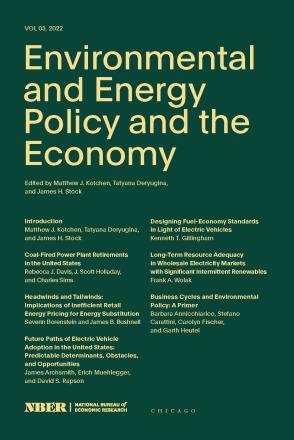 Book
Research Spotlights