National Bureau of Economic Research
Conducting and disseminating non-partisan economic research
Latest from the NBER
Racial and Ethnic Disparities in Excess All-Cause Mortality from COVID-19
The burden of COVID-19 infections and deaths has not fallen equally on members of different racial or ethnic groups.  A new study of all-cause excess mortality in one of the early months of the pandemic by NBER affiliates Amy Finkelstein of MIT and Maria Polyakova of Stanford, along with their collaborators, finds that excess mortality was nearly four times greater for Blacks, and three times greater for Hispanics and Native Americans, than for non-Hispanic Whites.  To compare mortality rates across groups, the researchers link Census data on race and geography to the Social Security Administration's Numident data on dates of birth and death.  They measure excess mortality in April 2020 relative to mortality for the same groups in the previous nine years. Polyakova summarizes these results in the video below.   An archive of NBER videos on pandemic-related topics may be found here.
Three NBER working papers distributed this week report on the economic and health consequences of the COVID-19 pandemic, or on the impact of public policies that are designed to respond to it. One observes that prior to the pandemic, households with at least one remote worker spent a larger share of their budget on housing than those with no such workers; this has implications for the housing demand that may be induced by a post-pandemic increase in working from home (28483). A second explores the way individuals acquire and process information about the pandemic, and finds a bias toward placing high weight on information that confirms prior beliefs (28484). The final study compares alternative approaches to designing procurement programs for vaccines, focusing on how government risk-sharing can accelerate vaccine delivery (28492).

More than 365 NBER working papers have addressed various aspects of the COVID-19 pandemic. These papers are open access and have been collected for easy reference. Like all NBER papers, they are circulated for discussion and comment, and have not been peer-reviewed. View them in reverse chronological order or by topic area.
---
Research Assistant Sam Patterson is Named a New Rhodes Scholar
Sam Patterson, a senior at the University of Maryland-Baltimore County (UMBC) who is a research assistant on the NBER's Transportation Economics in the 21st Century project, was selected in December as one of 32 new Rhodes Scholars from the United States. He will spend the next two years studying in Oxford, England. A native of Georgia, Patterson will receive BS degrees in mathematics and statistics and a BA in economics this spring from UMBC, where he is a Meyerhoff Scholar. His research at NBER has used data collected by ride-sharing companies to study determinants of the roughness of urban roads. This project is directed by NBER researchers Edward Glaeser and Gabriel Kreindler of Harvard University and is part of a larger research initiative supported by the US Department of Transportation. Patterson plans to continue his study of transportation economics as a masters student at Oxford, and then to return to the US to pursue a PhD in Economics.
---
2021 NBER Summer Institute
The 44th annual NBER Summer Institute will be held on-line between Monday, July 12 and Friday, July 30, 2021.  It consists of nearly 50 distinct meetings, each focusing on a topic or a sub-field in economics. The schedule of meetings can be found here.  To be considered for presentation, papers must be submitted by Monday, April 5 here.
---
From the NBER Digest
...a free monthly publication of non-technical summaries of research on topics of broad public interest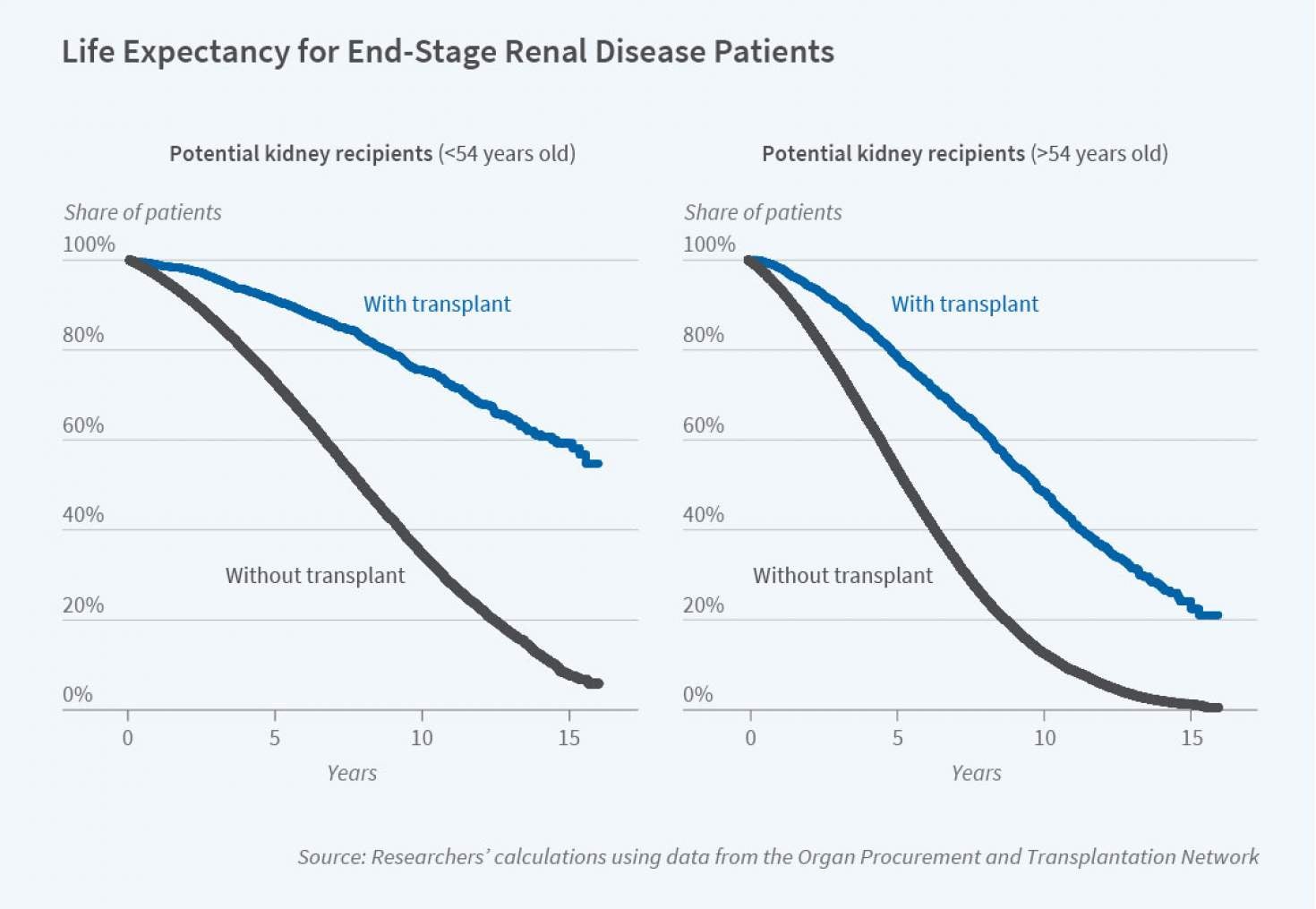 The current deceased donor kidney allocation system prolongs recipients' lives by an average of 8.8 years. Alternative allocation rules could raise this substantially. The process by which kidneys from deceased donors are allocated among potential recipients is an example of a resource allocation problem that does not rely on prices but that has attracted substantial interest from economists. About 100,000 patients in the United States currently are suffering from...
From the Bulletin on Retirement and Disability
...a free quarterly summarizing research in the NBER's Retirement and Disability Research Center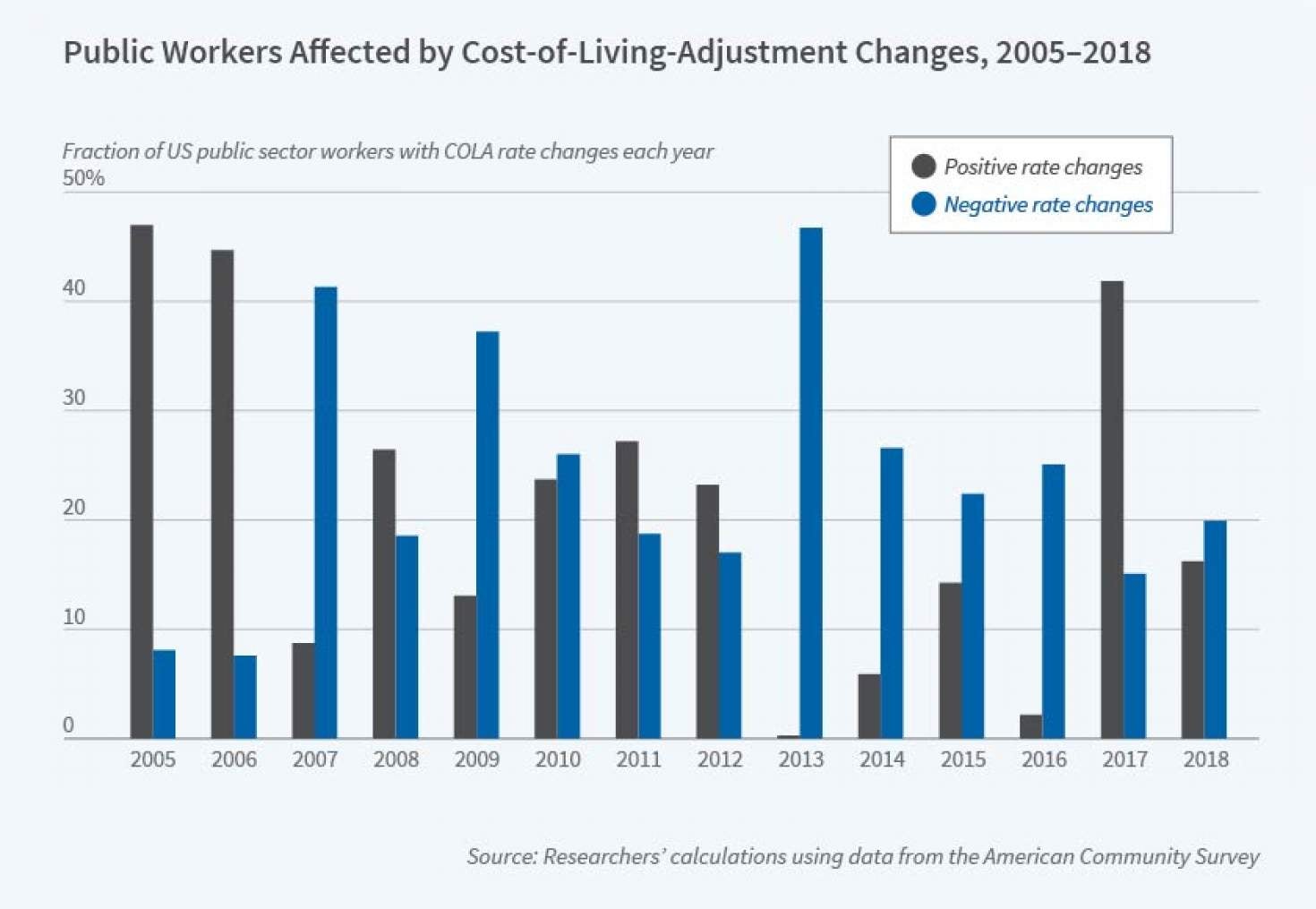 Nearly one in seven US workers is a state or local government employee. These employees are eligible for retirement benefits through about 300 state administered and 6,000 locally administered pension plans, most of which are defined benefit plans. Many state and local pension plans face a funding gap. Across all plans, the ratio of plan assets to plan liabilities was 72 percent in 2019. Many public sector retirement plans are prohibited by their state constitutions...
From the NBER Reporter
...a free quarterly featuring affiliates writing about their research, program updates, and NBER news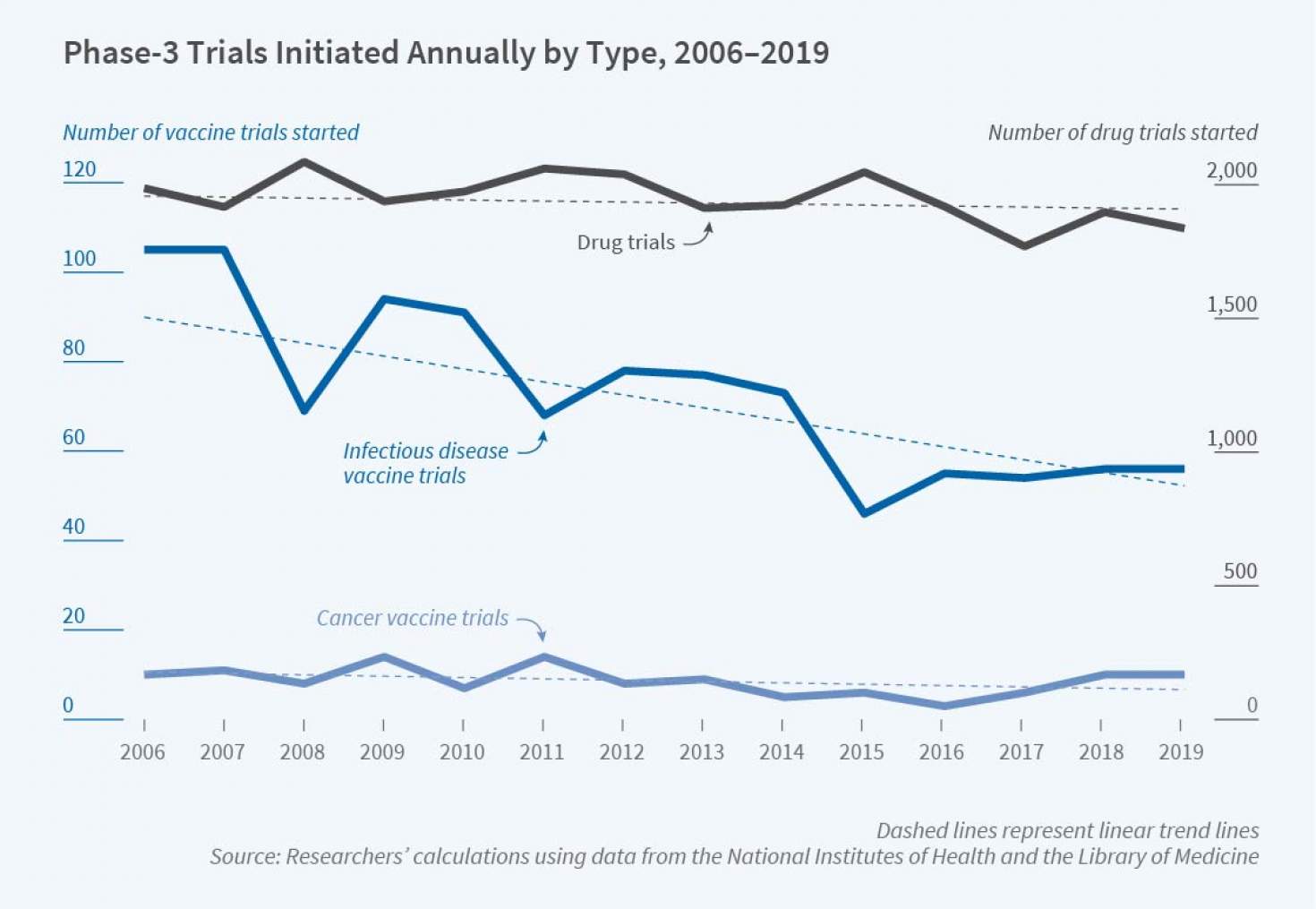 Along with improvements in sanitation and nutrition, vaccines have been given credit for substantial reductions in illness and death. Yet the level of research activity devoted to developing new vaccines, at least prior to COVID-19, raises concerns about whether the incentives to develop vaccines are commensurate with the benefits derived from them. Figure 1 shows counts of Phase 3 clinical trials registered annually from 2006 to 2019 by the National Institutes of Health....
From the Bulletin on Health
...a free summary of recent NBER Working Papers on health topics, distributed three times a year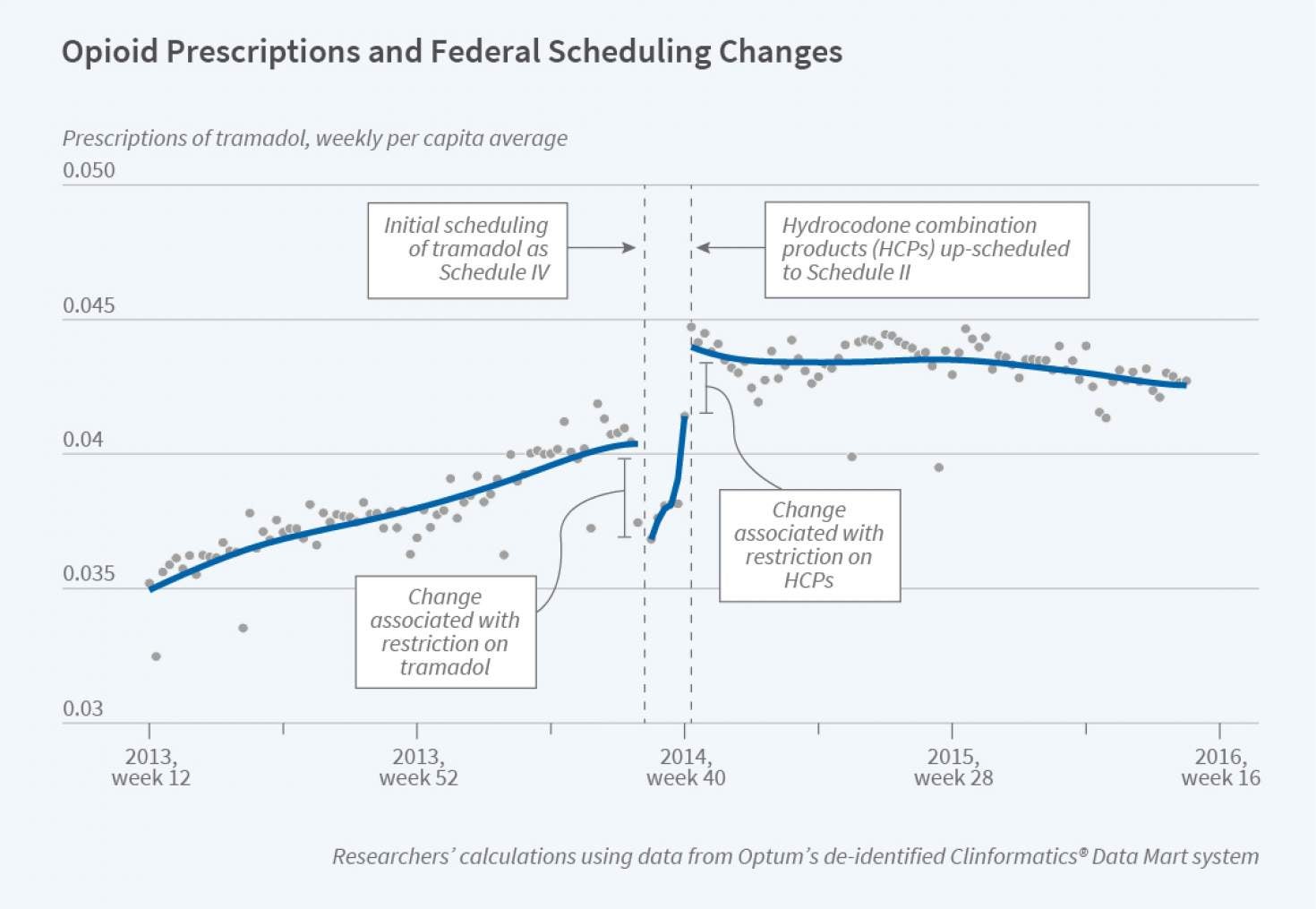 In response to concerns about misuse of two commonly-prescribed opioid medications, the Drug Enforcement Agency (DEA) tightened the rules for prescribing them in 2014. The additional restrictions were effective in reducing use of the targeted drugs, according to Competitive Effects of Federal and State Opioid Restrictions: Evidence from the Controlled Substance Laws (NBER Working Paper 27520) by Sumedha Gupta, Thuy D. Nguyen, Patricia R. Freeman, and Kosali I. Simon....
Research Projects
Conferences
Books & Chapters
Through a partnership with the University of Chicago Press, the NBER publishes the proceedings of four annual conferences as well as other research studies associated with NBER-based research projects.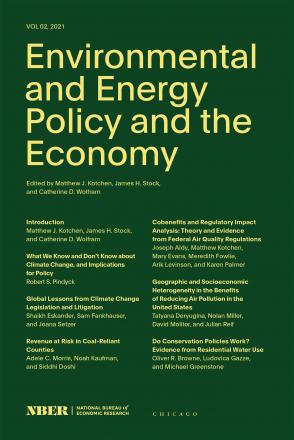 Book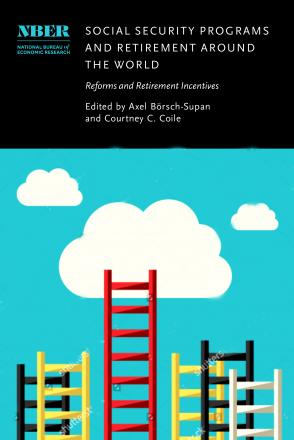 Book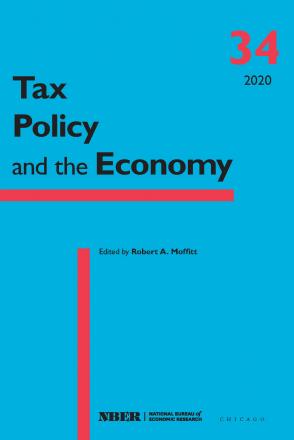 Book
Interviews