The National Bureau of Economic Research (NBER) was founded in 1920, largely in response to heated Progressive-era controversies over income distribution. The two leading figures in its launch — Malcolm Rorty, an executive at the American Telephone and Telegraph Company, and Nachum Stone, a socialist labor organizer with a PhD in economics from Columbia University — had widely different views on many economic policy issues. They agreed, however, that there was little data on which to base discussions of these issues. With the support of a group of business and labor leaders, as well as university-based economists who were committed to uncovering and disseminating important facts about the economy of the United States, they created the NBER to address this information gap. To this day, NBER research is bound by a restriction that the founders imposed: studies may present data and research findings, but may not make policy recommendations or make normative statements about policy.  
At the outset, the NBER received essential support from the Carnegie Foundation and the Laura Spelman Rockefeller Foundation, and funding from several corporations. The founders recruited Columbia Professor Wesley Clair Mitchell, a leading expert on economic fluctuations, to serve as the inaugural director of research. He oversaw the organization's research program for 25 years.
Business Cycles and National Income Accounting
Mitchell assembled a small group of researchers who were dedicated to improving economic measurement. Their research project measured labor's share of national income. The team developed two distinct methods of estimating the labor share, and only when the estimates agreed reasonably well did they publish their findings. The careful attention to data quality and statistical methods in the study of the income distribution were widely recognized and the findings were well received. The inaugural project was followed by research on unemployment and, later in the 1920s, on business-cycle fluctuations. The NBER research staff published 23 books during the organization's first decade. Years later, Solomon Fabricant, a former NBER vice president for research, summarized this formative period for the NBER in a short essay.
In 1927, the same year in which he published his classic book Business Cycles: The Problem and Its Setting, Mitchell recruited one of his recently graduated doctoral students, Simon Kuznets, to join the NBER staff.  Kuznets quickly became an expert on economic measurement. In the early 1930s, in response to a request from the US Department of Commerce for support in developing measures of aggregate economic activity, he led an NBER research project that became the foundation of the US national income accounts. This was one of the contributions for which Kuznets would be awarded the Nobel Prize in Economic Sciences in 1971.
In 1936, Kuznets launched the Conference on Research on Income and Wealth, a group of researchers and economic statisticians devoted to improving measurement. The rapporteur for the first meeting was Milton Friedman, one of Kuznets' students and a research assistant at the NBER. Friedman, who was honored with a Nobel prize in 1976 for his work on consumption and monetary theory, was an active contributor to the NBER's research program for several decades.
Post-War Expansion of Research Scope
Mitchell set the research agenda for the NBER's first quarter-century.  In 1945, he and his student Arthur Burns published Measuring Business Cycles, summarizing important features of the NBER's research on economic fluctuations. While celebrated for its data synthesis, the volume was sometimes criticized for its lack of a theoretical framework. Burns succeeded Mitchell as research director and served in this capacity until 1953, when he stepped down to chair President Dwight D. Eisenhower's Council of Economic Advisers. Fabricant, an expert on productivity and business cycles, was appointed director of research in 1953, and served in this role for more than a decade.
During the 1950s and 1960s, the NBER retained its focus on economic fluctuations, productivity and economic growth, and data creation, but the scope of research expanded. Milton Friedman and Anna Schwartz carried out path-breaking work on the impact of monetary policy on business cycles, a project that culminated in their landmark 1965 study, A Monetary History of the United States. Future Nobel Laureate George Stigler studied mark-ups and firm pricing behavior. Research in labor economics flourished, led by Jacob Mincer of Columbia with the active participation by future Nobel laureate Gary Becker. Becker's classic treatise Human Capital was published by the NBER in 1962. 
When Burns returned from Washington in 1956, he became president of the NBER. While previous presidents had served short terms, Burns served until 1967, when the NBER Board of Directors appointed John R. Meyer, a professor at Harvard University who was a leader in transportation economics and economic history, to the role of president. His arrival marked an important break with tradition: he was not an expert on business cycles and his research was focused on topics in micro- rather than macro-economics. Meyer launched a number of important initiatives as well as two NBER journals, Annals of Economic and Social Measurement and Explorations in Economic Research. He opened NBER offices in Cambridge, New Haven, Palo Alto, and Washington. The NBER devoted substantial resources to collecting and maintaining a database of macroeconomic time series and to creating the statistical software that could be used to access and analyze it. A long-lasting initiative, led by vice president for research Victor Fuchs, was a program of research on health economics, law and economics, demography, and social institutions.
Martin Feldstein Reinvents the NBER
Meyer was succeeded as president in 1977 by Martin S. Feldstein, who like Meyer was a professor at Harvard. Feldstein had recently received the American Economic Association's John Bates Clark Medal as the outstanding economist under 40. His research focused on health care, taxation, and labor markets, but his wide-ranging interests expanded the scope of NBER activities. With the exception of the 1982-84 period, when he chaired President Ronald Reagan's Council of Economic Advisers and MIT Professor Eli Shapiro served as NBER president, Feldstein led the NBER until 2008.
Feldstein was a transformative leader who re-invented the NBER.  The organization had a staff of about 30 researchers in 1977, but he realized that it could play a much greater role in the economics profession as a network of university-based affiliates. By the early 1980s, there were more than  100 Research Associates, more geographically dispersed than the historical focus on New York, and by the time Feldstein stepped down, there were nearly 1,000. 
Feldstein altered nearly every aspect of the NBER. He moved the headquarters from New York City to Cambridge, retaining a small office in Manhattan and closing offices in New Haven and Washington. He advanced the NBER's role in disseminating economic research by developing the NBER Working Paper Series as a leading source of pre-publication findings and shuttered the NBER's journals.  The working paper series had been launched in 1973, and there were 142 such papers when Feldstein started. By the close of his term, there were more than 14,000. Feldstein appointed a formal Business Cycle Dating Committee, chaired by Robert Hall, to track turning points in economic activity and carry forward the NBER's long-standing role in business cycle analysis. He also created research programs focusing on particular topic areas. In 1978, he launched five research programs: Economic Fluctuations and Growth, International Studies, Business Taxation and Finance, Financial Markets and Monetary Economics, and Labor Studies. Over time, other programs were added, and some of the initial programs were sub-divided. 
Feldstein realized that the NBER could play a crucial convening function by bringing researchers with similar interests together. Each program held at least one meeting during each academic year. Another important milestone in 1978 was the launch of the NBER Summer Institute. That year's meeting consisted of two small research conferences involving about 60 researchers. In recent years, the Cambridge-based Summer Institute has included more than 50 meetings and over 2,800 researchers.
Other important initiatives included the creation in 1986 of a research program on the economics of aging, led by David Wise, which ultimately established the NBER as a center for research activity in health economics and demography; the launch of the Macroeconomics Annual, initially directed by Stanley Fisher; the annual Tax Policy and the Economy conference in Washington, first organized by Lawrence Summers; and the International Seminar on Macroeconomics, under the direction of Robert Gordon and Georges deMenil. By 2008, when Feldstein became president emeritus, there were 19 research programs and a number of working groups studying a wide range of topics.
When Feldstein stepped down in 2008, MIT Professor James Poterba, a student of Feldstein's as a Harvard undergraduate, was named NBER president. He continued the expansion of the NBER's scope and span. The number of affiliated researchers, just over 1,000 in 2008, was more than 1,600 in 2021.  A new program on Development Economics, launched in 2012, expanded the NBER's research profile, and a working group on Market Design brought new ties to economic theory and computer science. Today, digital distribution has supplanted the distinctive yellow-paper-covered printed working papers, and the NBER distributes more than 1,200 new research studies each year. The NBER convenes roughly 125 meetings a year on a wide range of topics in applied economics.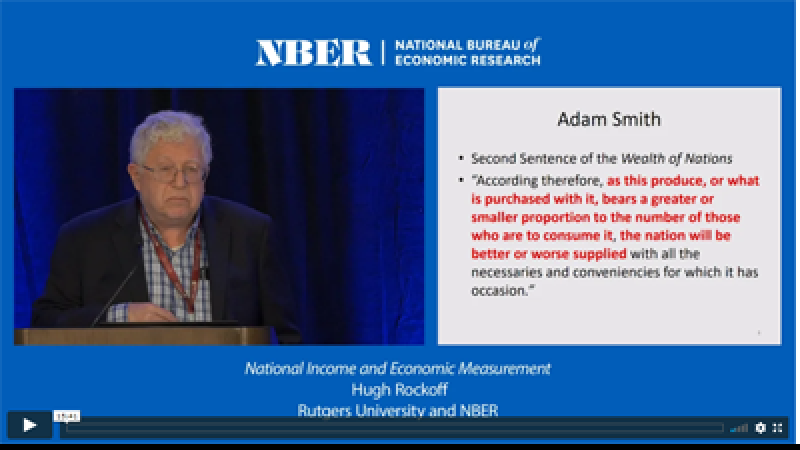 The National Bureau of Economic Research (NBER) was founded one hundred years ago, on January 23, 1920, to "encourage...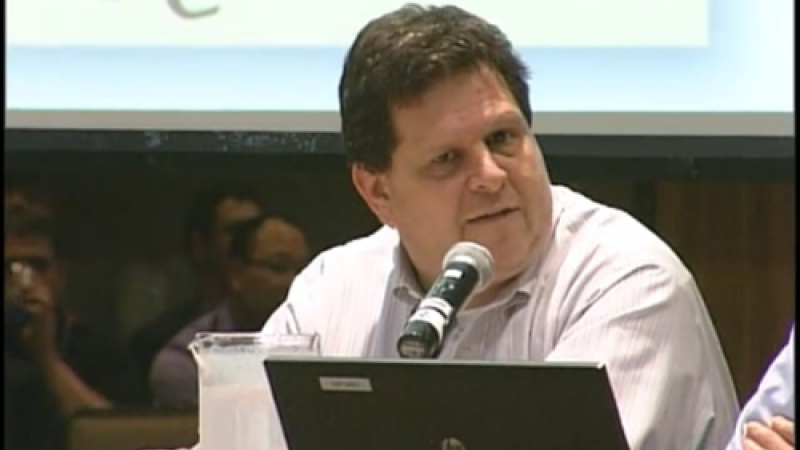 This panel discussion examines the development and influence of the NBER Working Paper series, which distributed its 20...
Useful references on the NBER's first half-century include: