Globalization in Historical Perspective
Published Date
Copyright 2003
ISBN 978-0-226-06598-4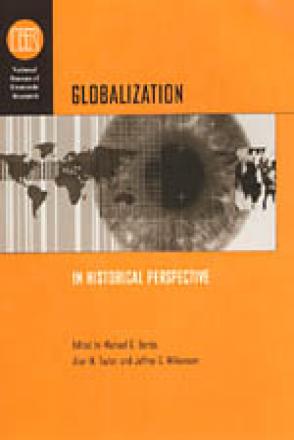 As awareness of the process of globalization grows and the study of its effects becomes increasingly important to governments and businesses (as well as to a sizable opposition), the need for historical understanding also increases. Despite the importance of the topic, few attempts have been made to present a long-term economic analysis of the phenomenon, one that frames the issue by examining its place in the long history of international integration.
This volume collects eleven papers doing exactly that and more. The first group of essays explores how the process of globalization can be measured in terms of the long-term integration of different markets—from the markets for goods and commodities to those for labor and capital, and from the sixteenth century to the present. The second set of contributions places this knowledge in a wider context, examining some of the trends and questions that have emerged as markets converge and diverge: the roles of technology and geography are both considered, along with the controversial issues of globalization's effects on inequality and social justice and the roles of political institutions in responding to them. The final group of essays addresses the international financial systems that play such a large part in guiding the process of globalization, considering the influence of exchange rate regimes, financial development, financial crises, and the architecture of the international financial system itself.
This volume reveals a much larger picture of the process of globalization, one that stretches from the establishment of a global economic system during the nineteenth century through the disruptions of two world wars and the Great Depression into the present day.