The Economics of Poverty Traps
Published Date
Copyright 2019
ISBN 978-0-226-57430-1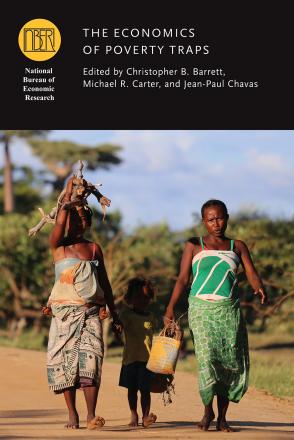 What circumstances or behaviors turn poverty into a cycle that perpetuates across generations? The answer to this question carries especially important implications for the design and evaluation of policies and projects intended to reduce poverty. Yet a major challenge analysts and policymakers face in understanding poverty traps is the sheer number of mechanisms—not just financial, but also environmental, physical, and psychological—that may contribute to the persistence of poverty all over the world.
The research in this volume explores the hypothesis that poverty is self-reinforcing because the equilibrium behaviors of the poor perpetuate low standards of living. Contributions explore the dynamic, complex processes by which households accumulate assets and increase their productivity and earnings potential, as well as the conditions under which some individuals, groups, and economies struggle to escape poverty. Investigating the full range of phenomena that combine to generate poverty traps—gleaned from behavioral, health, and resource economics as well as the sociology, psychology, and environmental literatures—chapters in this volume also present new evidence that highlights both the insights and the limits of a poverty trap lens.
The framework introduced in this volume provides a robust platform for studying well-being dynamics in developing economies.