Raising Medicaid Reimbursements Increased Primary Care Visits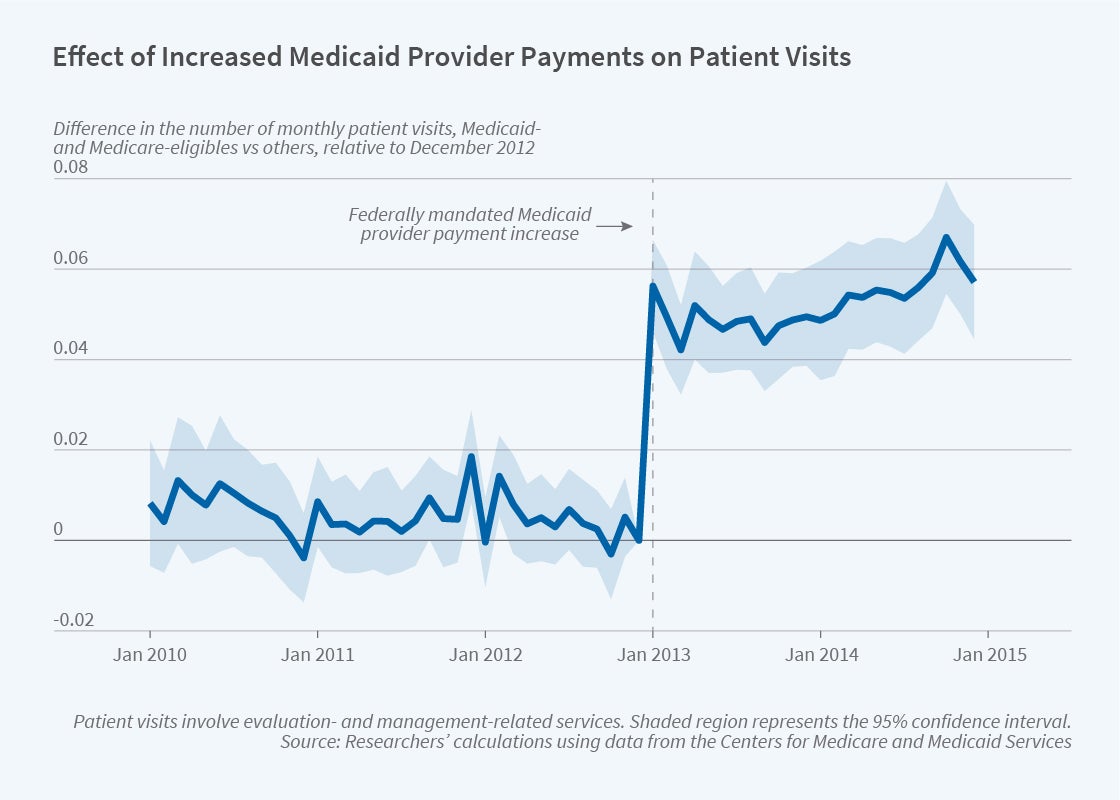 An Affordable Care Act related increase in reimbursements for providers serving low-income Medicare beneficiaries increased this group's access to medical care.
Low-income elderly and disabled individuals are eligible for health insurance through both Medicare, which is federally funded and administered, and Medicaid, which receives some federal funding but is administered by the states. These "dual-eligible" beneficiaries account for less than one-fifth of the Medicare population, but they represent about one-third of spending because of their greater health needs.
Medicare patients who are not eligible for Medicaid must pay for part of the medical services they receive out of pocket. Dual-eligibles are not required to make such cost-sharing payments; they are covered by Medicaid. However, because many states limit the amount they will pay for health services provided to Medicaid beneficiaries, health care providers often receive less revenue when they serve dual-eligibles than when they provide the same services to other Medicare beneficiaries. This disparity creates an incentive for providers to prioritize care for Medicare beneficiaries who are not eligible for Medicaid.
In The Impact of Provider Payments on Health Care Utilization: Evidence from Medicare and Medicaid (NBER Working Paper 29471), Marika Cabral, Colleen Carey, and Sarah Miller show that provider behavior is sensitive to the structure of payments under the two government insurance programs. They study a two-year increase in payments to providers serving dual-eligible patients.
In 2013, under the Affordable Care Act, the federal government funded an increase in payments to Medicaid providers for selected primary care procedures, including all services coded Evaluation and Management (E&M). This category includes visits during which providers evaluate, diagnose, and manage patient conditions. This change applied to all Medicaid beneficiaries, including dual-eligibles. It expired at the end of 2014.
By comparing the dual and nondual Medicare patient populations during the two years of this reform and in the three years before it, the researchers document that Medicaid payments for Medicare cost-sharing rose dramatically — by 13 percentage points in 2013. Total payments to E&M providers from Medicare and Medicaid increased by 6 percent, while there was a 6.3 percent rise in E&M services among dual-eligibles. The increase in E&M services arose from more frequent encounters in existing physician-patient relationships. The share of the low-income elderly population that had not had a single primary care visit in a year fell by 9 percent after the policy change, closing a gap in use of primary care between lower-income and higher-income Medicare beneficiaries.
The researchers conclude that unequal payments to providers for identical services contribute to the disparity in use of primary care between low-income and higher-income Medicare enrollees, and that boosting provider payments for dual-eligibles can reduce this gap.
— Laurent Belsie