Small Differences That Matter: Labor Markets and Income Maintenance in Canada and the United States
Published Date
Copyright 1993
ISBN 0-226-09283-6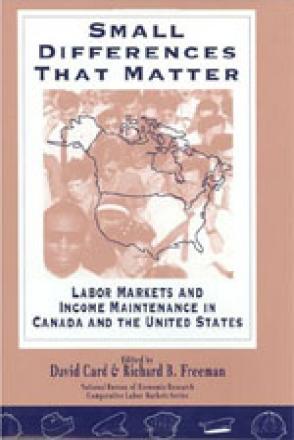 This volume, the first in a new series by the NBER that compares labor markets in different countries, examines social and labor market policies in Canada and the United States during the 1980s. It shows that subtle differences in unemployment compensation, unionization, immigration policies, and income maintenance programs have significantly affected economic outcomes in the two countries.
For example:
• Canada's social safety net, more generous than the American one, produced markedly lower poverty rates in the 1980s.
• Canada saw a smaller increase in earnings inequality than the United States did, in part because of the strength of Canadian unions, which have twice the participation that U.S. unions do.
• Canada's unemployment figures were much higher than those in the United States, not because the Canadian economy failed to create jobs but because a higher percentage of nonworking time was reported as unemployment.
These disparities have become noteworthy as policymakers cite the experiences of the other country to support or oppose particular initiatives.