Business Formation Surged during Pandemic and Remains Strong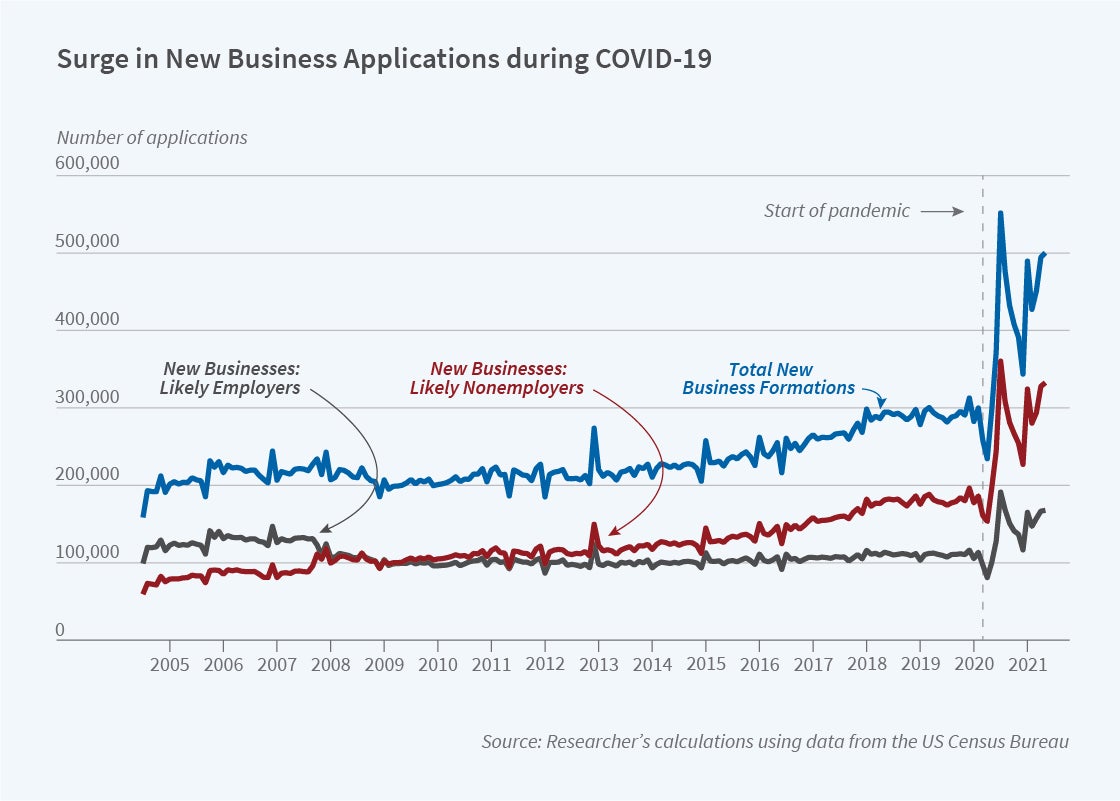 The number of new business applications was higher during the summer of 2020 than at any time in the past 15 years, and it has remained strong ever since.
Applications for new businesses plunged in the early months of the pandemic-induced recession, but rebounded before long. In July 2020, applications surged to historic heights, John C. Haltiwanger finds in Entrepreneurship during the COVID-19 Pandemic: Evidence from the Business Formation Statistics (NBER Working Paper 28912).
Haltiwanger studies the Business Formation Statistics, a weekly report from the US Census Bureau based on the number of applications for Employer Identification Numbers (EINs) filed with the Internal Revenue Service. Between 2004 and 2019, he finds an upward trend in "likely nonemployer startups," businesses that are unlikely to hire any workers, and a long-term decline in "likely employer startups," those that have a good chance of creating jobs for someone other than their owner. When the pandemic hit, business applications of both types declined.
While the number of EIN requests dropped from March through May 2020, the count in June 2020 was the highest since January 2019. Applications in July 2020 hit an all-time peak, and in each month between August 2020 and April 2021, the number was higher than in any month between 2004 and the onset of the pandemic. Total applications rose more than 20 percent between 2019 and 2020, a rate of increase more than twice that of any previous year. Haltiwanger also studies the composition of startups, noting that "from March 2020 through May 2021, new applications for likely employers were almost 500,000 greater [than] over a similar period from March 2018 through May 2019." For likely nonemployer startups, the comparable statistic was an increase of 1.3 million. Three-quarters of the recent surge in startups was concentrated in just 10 industries, including Non-store Retail, which accounted for a third of the growth, Personal, Professional, and Food Services, and Truck Transportation. The rapid growth of likely nonemployer startups, which reflects self-employment activity, highlights the increasing importance of gig workers in the modern economy.
To place the recent developments in perspective, Haltiwanger also analyzes the Great Recession. Business startups declined then, particularly among employer startups. For more than a year after the collapse of Lehman Brothers in 2008, the number of applications for employer startups was below the average of the previous two years. Applications for nonemployer startups increased during the Great Recession, but only by about one-quarter as much as during the COVID-19 recession. One explanation for this difference is that financial conditions, which can affect the rate of startup activity especially for new employer businesses, were more robust during the COVID-19 recession than during the Great Recession.
— Brett M. Rhyne