Entrepreneurship and Innovation Policy and the Economy, Volume 1
Josh Lerner and Scott Stern, editors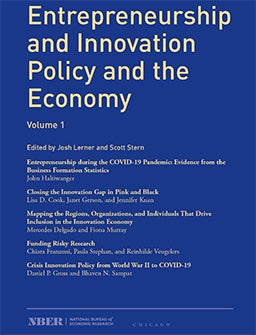 Entrepreneurship and innovation are widely recognized as key drivers of long-term economic growth. Understanding the forces that influence them is essential for policy design. Building on the 20-year legacy of the NBER Innovation Policy and the Economy series, Entrepreneurship and Innovation Policy and the Economy showcases recent research on entrepreneurship and entrepreneurship policy.
The volume reports on five research projects. First, leveraging detailed data from the Business Formation Statistics, John Haltiwanger documents a striking uptick in new business formation during the pandemic and considers the future economic impact of this renewed rate of business dynamism.
The next two chapters focus on disparities in the degree of inclusion of women and people of color in innovation and entrepreneurship. Lisa Cook, Janet Gerson, and Jennifer Kuan examine the history of unequal access to education, training, and the practice and commercialization of invention, and the subsequent loss in innovative capacity and productivity. They also consider the potential effects of policies that address these inequalities. Mercedes Delgado and Fiona Murray complement this analysis by characterizing and analyzing the gender gap in patented innovation, including the substantial variation in inclusion of women across locations, industries, and individual firms.
The remaining chapters focus on the organization of research and commercialization. Chiara Franzoni, Paula Stephan, and Reinhilde Veugelers consider the operation of current research-funding systems with regard to risky research projects and describe the consequences of documented biases against novelty in funding decisions in the context of research on mRNA technology. Drawing on historical lessons from World War II as well as current analysis of innovation policy during COVID-19, Daniel Gross and Bhaven Sampat consider the unique challenges that arise when a crisis necessitates unusually rapid innovation and the deployment, at scale, of research findings.
https://www.journals.uchicago.edu/toc/eipe/2022/1