El Salvador's Experiment with Bitcoin as Legal Tender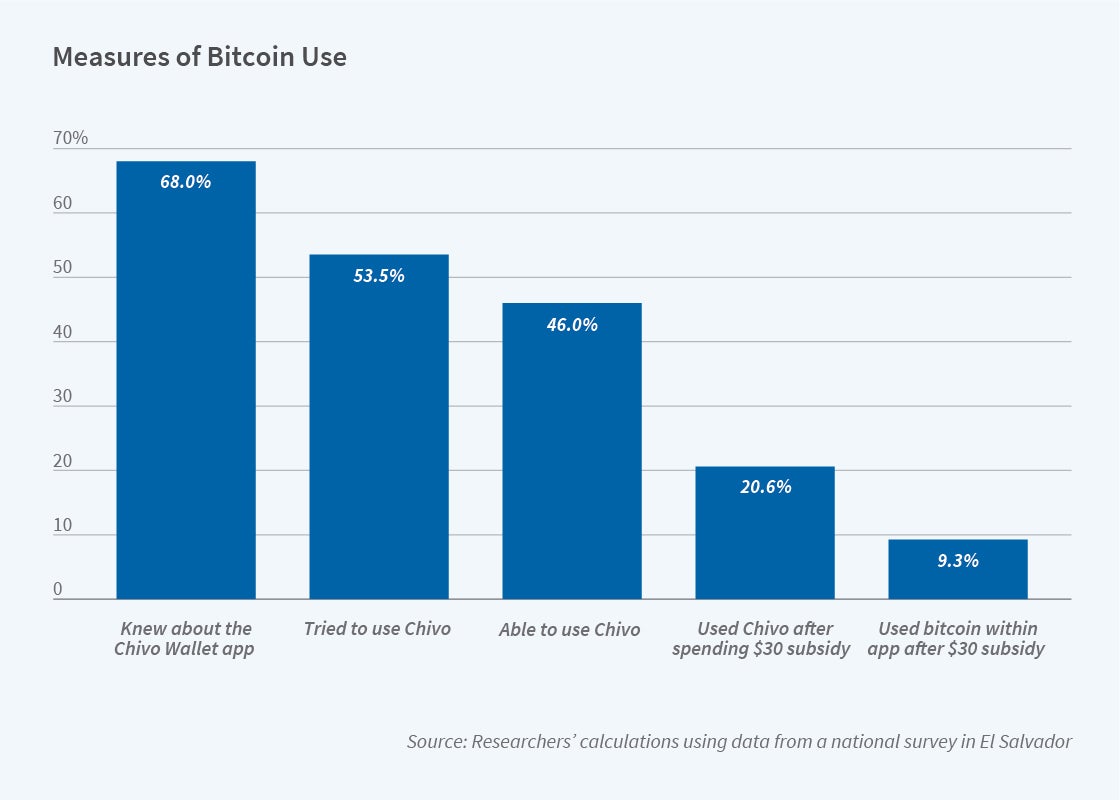 In September 2021, El Salvador became the first country to make bitcoin legal tender, requiring all businesses to accept the cryptocurrency. In an attempt to popularize and regularize its use, the government gave citizens financial incentives to download a special cryptocurrency app.
Half the nation's households downloaded the app when the bitcoin law went into effect. Since the start of 2022, however, very few households have joined the early movers. Among early downloaders, more than 60 percent have not made a transaction after spending the free bitcoin that came with the account, and 20 percent have yet to spend the bonus. However, a small group of consumers, most of whom are banked, educated, young, and male, is very active on the app. This group was not the intended target of the bitcoin rollout.
Despite free bitcoin and discounted gasoline for those downloading and using the cryptocurrency app, downloads have stalled and use in daily life is not widespread.
In Are Cryptocurrencies Currencies? Bitcoin as Legal Tender in El Salvador (NBER Working Paper 29968), Fernando E. Alvarez, David Argente, and Diana Van Patten report on a nationally representative, face-to-face survey of 1,800 Salvadoran households that explored the breadth of the digital currency's acceptance and the reasons more Salvadorans are not taking advantage of the technology.
In theory, developing nations like El Salvador are ideal candidates for cryptocurrency adoption. More than half its citizens rely exclusively on cash, rather than credit or debit cards. Some 70 percent of households have no bank account and nearly 90 percent do not use mobile banking. A digital payment platform could be a way to make the economy more inclusive and accessible.
El Salvador introduced the Chivo Wallet in September 2021 along with incentives to get households to download and use it. These included $30 in free bitcoin with each download, which is nearly 1 percent of average annual per capita income, and large discounts on gasoline paid for in bitcoin. Residents didn't need a bank account or a credit card to make transactions, only a mobile phone with internet access, something two-thirds of residents had.
Yet another perk was fee-free transactions. Outside Chivo, bitcoin transactions can involve large fees. Using a bitcoin ATM can run up charges of up to 20 percent of the transaction amount. But with Chivo, transactions, conversions from bitcoin to dollars, and withdrawals at Chivo ATMs incur no fee. 
Almost 78 percent of those who were aware of the app tried to download it. The most common motivator was the $30 bonus, although respondents also pointed to the contactless payment technology at a time when the COVID-19 pandemic was in full swing, and the potential to receive remittances. Among the one in five Salvadorans who knew about Chivo but did not download it, the top reason was a preference for using cash. Others said they did not trust the system or bitcoin, they did not own a phone with internet, or the technology was complicated.
Even among active users who reported using the app after spending the bonus, more than half have not withdrawn cash from a Chivo ATM. But the mean number of ATM withdrawals is 2.59, which suggests that a small group of users is very active on the system.
Although the law requires all firms to accept bitcoin, in reality only 20 percent do so. Roughly 5 percent of all sales have been paid in bitcoin through Chivo Wallet, and just as most households using Chivo prefer to keep their money in cash rather than in bitcoin, 88 percent of firms convert their bitcoin into dollars.
— Laurent Belsie
Related