Governance, Regulation, and Privatization in the Asia-Pacific Region
Published Date
Copyright 2004
ISBN 978-0-226-38679-9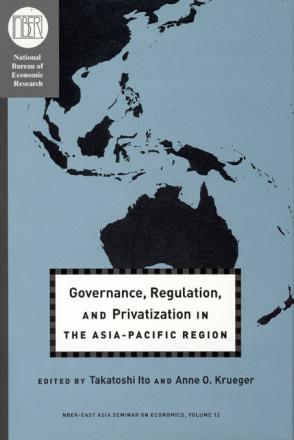 Over the last twenty-five years, there has been an acceleration in the move from government regulation towards privatization. Governance, Regulation, and Privatization in the Asia-Pacific Region is the first thoroughgoing account of the relative success of the different approaches to privatization as undertaken in Korea, China, Australia, and Japan.
In most contexts, privatization is expected to yield greater efficiency and cost effectiveness while avoiding the corruption and bloated budgets of government regulation or monopoly control. But broad-scale privatization, if ill designed, has also yielded its share of difficulties in East Asia. Privatization sometimes has created a vacuum in corporate governance for some of the region's most important industries and in some cases merely reinstated the monopoly-like configurations. These chapters discuss the experiences of privatization in several industries, including railroad and telecom, corporate governance problems, accounting issues, and challenges for the future in East Asian countries.
The first section is theoretical in nature and examines boundaries among government protection, market freedom, and shareholder expectations. The second part is constituted of country case studies, beginning with an analysis of both the Korean financial crisis that followed its 1997 law to privatize large, public sector corporations and the new ways Korean corporations finance themselves. Following is an evaluation of China's approach to privatization, with an in-depth look at the financial transitions of companies slated for initial public offering.
Related