Trade and Protectionism
Published Date
Copyright 1993
ISBN 0-226-38668-6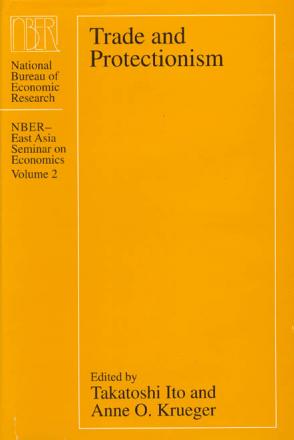 During the first three decades following the Second World War, an increasingly open international trading system led to unprecedented economic growth throughout the world. But in recent years, that openness has been threatened by increased protectionism, regional trading arrangements—Europe 1992 and the U.S.-Canada Free Trade Agreement—and setbacks in negotiations on the General Agreement on Tariffs and Trade. In Trade and Protectionism, American and East Asian scholars consider the dangers of this trend for the world economy and especially for East Asian countries.
The authors look at the current global trading system and at the potential threats to East Asian economies from possible regional arrangements, such as separate trading blocks in the Western Hemisphere and Europe. They cover trade between the United States and Japan, Korea and Japan, and Japanese-East Asian trade policies; trade in agriculture and semiconductors and the frictions that have jeopardized this trade; and direct foreign investment. The contributors round out the work with discussions of the political economy of protection in Korea and Taiwan and political economy considerations as they affect trade policy in general.
This is the second volume of the East Asia Seminar on Economics series. The first volume, The Political Economy of Tax Reform, also edited by Takatoshi Ito and Anne O. Krueger, addresses tax reform in the global economy.