Entrepreneurship, the creation of new businesses and the commercialization of new ideas, is a key contributor to economic growth and an important pathway to upward economic mobility.  Young firms are responsible for a disproportionate share of new job creation, and startups play a vital role in many technology-intensive industries.  
The NBER Bulletin on Entrepreneurship is designed to highlight economic scholarship that addresses key questions about entrepreneurs, the drivers of their success, their broader impact, and the diverse community of investigators that studies them.  Twice each year, this new digital publication will synthesize recent research, introduce a leading scholar of entrepreneurship, and describe projects or initiatives that advance our understanding of entrepreneurship and the policies that influence it.  
Entrepreneurship can be affected by many features of the economic and policy environment.  The forces that contribute to the variation in business dynamism over time and across countries are the subject of active research in many subfields of economics, including corporate finance, industrial organization, labor economics, macroeconomics, organizational economics, productivity, and public finance.   Many public policies, including set-asides for small businesses in government procurement programs, tax incentives for young firms and their investors, the recent Paycheck Protection Program, and public support for R&D carried out by small or recently founded firms, are designed to promote entrepreneurship and support emerging businesses.  Researchers have studied the impact of these programs, which segments of the US population benefit from them, and their effect on the overall pace of economic growth.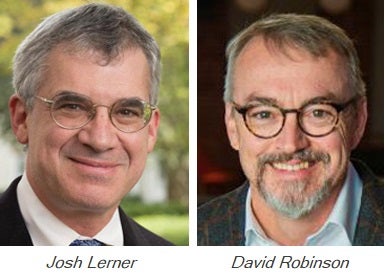 The NBER Entrepreneurship Working Group (EWG) draws together researchers from many subfields of economics and related fields, provides a forum for sharing research findings, and advances the study of entrepreneurship more generally.  In the nearly two decades since Josh Lerner of Harvard Business School launched the EWG, NBER researchers have distributed more than 500 studies on entrepreneurship-related topics.  The EWG meets at least twice each year to discuss new research findings.  From its earliest days, the EWG has been generously supported by the Ewing Marion Kauffman Foundation.  Today, David Robinson of Duke University's Fuqua School of Business directs the EWG.
Robinson also organizes the NBER's Entrepreneurship Research Boot Camp, an annual convening of several dozen economics and business PhD students from a wide range of universities.  These students participate in an intensive, midsummer course taught by leading scholars, and in many cases launch scientific collaborations that tackle unsolved research questions.  This program supports and diversifies the community of economists studying entrepreneurship.