Pre-Doctoral Fellowship Program in Behavioral Macroeconomics, 2022-2024
This project will support NBER's Pre-Doctoral Fellowship Program in Behavioral Macroeconomics, which provides dissertation fellowships for doctoral students in economics who are studying topics that include i) aggregate implications of limited capacity of household, firms, and policymakers to collect and process information; ii) decision making when agents have potentially mis-specified models or incomplete information sets; iii) formation of expectations; iv) optimal policy design (fiscal policy, monetary policy, communication policy); and v) interaction of economic agents with different levels of knowledge or sophistication. Fellowship recipients may also study other topics emphasizing aggregate implications of behavioral economics. Each fellowship will offer an academic year stipend and research allowance.
Investigator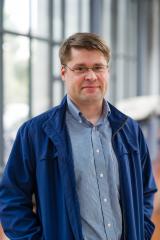 Yuriy Gorodnichenko is the Quantedge Presidential Professor of Economics at the University of California, Berkeley. His research primarily focuses on applied macroeconomics but also includes public finance, development, and international economics.
Supported by the Alfred P. Sloan Foundation grant #G-2021-14193