Three New Directors Elected to NBER Board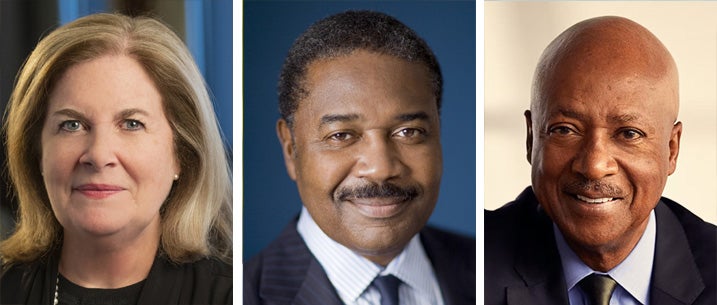 Esther George, William M. Lewis Jr., and Laurence C. Morse were elected members at large of the NBER Board of Directors at the board's September 11 meeting. 
George is the past president and CEO of the Federal Reserve Bank of Kansas City. For nearly 12 years she led more than 2,000 bank employees, overseeing supervision of financial institutions and provision of payment and financial services to depository institutions. She played a key role in setting national monetary policy as a voting member of the Federal Open Market Committee, and hosted the Kansas City Fed's annual Jackson Hole Economic Symposium. George received her undergraduate degree in business administration from Missouri Western State University and an MBA from the University of Missouri-Kansas City. 
Lewis is a partner and member of the Firm Leadership Team at Apollo Global Management, a leading investment manager specializing in alternative asset classes. Prior to joining Apollo, he was a managing director and chair of investment banking at Lazard. He spent more than two decades in a variety of leadership roles at Morgan Stanley in global mergers and acquisitions and corporate finance, and as chair of the firm's diversity task force. Lewis serves on the board of directors of Ariel Alternatives, the Harvard Management Company, which oversees the Harvard University endowment, and several other non-profit institutions. He received his undergraduate degree in economics from Harvard University and an MBA from Harvard Business School.
Morse is a cofounder and managing partner of Fairview Capital Partners, a Connecticut-based venture capital and private equity investment management firm. Prior to launching the firm, he held senior positions or served on the advisory boards of several other venture capital firms. He is a board member of Webster Financial Corporation, an NYSE-listed commercial bank; a trustee of Harris Associates Investment Trust (Oakmark Mutual Funds); and chair of the board of trustees of Howard University. Morse received his undergraduate degree in economics from Howard and his PhD in economics from Princeton University.
In addition to these new appointments, the board elected Robert Hamada and Robert Parry, both long-serving board members, to emeritus status.