Peter Blair Henry Elected Chair of NBER Board Directors; Karen Mills Elected Vice Chair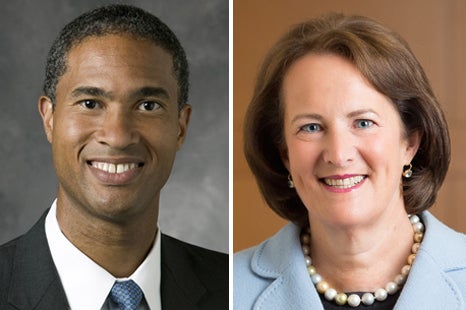 Peter Blair Henry was elected chair of the NBER's Board of Directors and Karen Mills was elected vice chair at the board's September 11 meeting.
Henry's research in international macroeconomics overturned conventional wisdom on debt relief, international capital flows, and the role of institutions in economic growth. He is the Class of 1984 Senior Fellow at Stanford University's Hoover Institution, a senior fellow at Stanford's Freeman Spogli Institute for International Studies, and dean emeritus of New York University's Leonard N. Stern School of Business. 
Mills is a leading authority on US competitiveness, entrepreneurship, and innovation. She is a senior fellow at Harvard Business School in the entrepreneurial management unit, and served in President Obama's cabinet as administrator of the Small Business Administration (SBA).
Henry succeeds John Lipsky, the Peter G. Peterson Distinguished Scholar at Johns Hopkins University's Paul H. Nitze School of Advanced International Studies and a former first deputy managing director of the International Monetary Fund, who had served as chair of the board since 2020.
Henry served as head of the external economics advisory group for then-Senator Obama's 2008 presidential campaign and was appointed to the Presidential Commission on White House Fellows in May 2009. He is a member of the boards of Citigroup and Nike, and is the principal investigator of the PhD Excellence Initiative, a fellowship program funded by the Alfred P. Sloan Foundation and the Hoover Institution that supports minority scholars seeking admission to economics doctoral programs. He received the 2022 Impactful Mentoring Award from the American Economic Association.
Henry received a BA in mathematics from Oxford University, where he was a Rhodes Scholar; a BA in economics from the University of North Carolina at Chapel Hill, where he was a Morehead Scholar; and a PhD in economics from MIT. 
Mills has a long record of contributions in the business, government, and academic sectors. As Administrator of the SBA 2009–13, she managed a loan guarantee portfolio of over $100 billion, and was a member of the President's National Economic Council. She is the author of the book Fintech, Small Business & the American Dream and numerous other publications on fintech, innovation, and the supply chain economy. A venture capitalist, Mills serves on the board of Skillsoft, an educational technology company, and as a director of several Churchill Capital entities. She is a former director of the data analytics company Clarivate.
Mills is a member of the Harvard Corporation and a past vice chair of the Harvard Overseers. She earned an AB in economics from Harvard University and an MBA from Harvard Business School, where she was a Baker Scholar.