Benjamin Jones, Heidi Williams to Lead Innovation Policy Working Group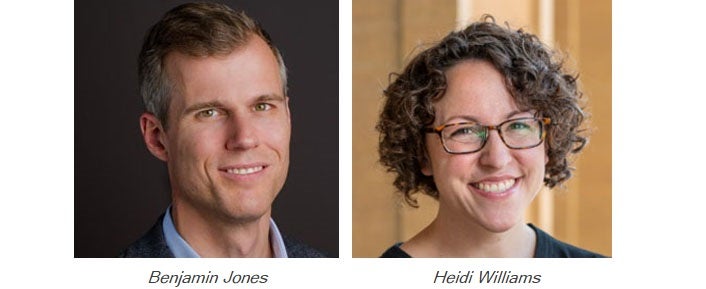 Benjamin Jones and Heidi Williams are the new codirectors of the NBER Innovation Policy Working Group. Jones is the Gordon and Llura Gund Family Professor in Entrepreneurship and Professor of Strategy at Northwestern University's Kellogg School of Management. Williams is the Charles R. Schwab Professor of Economics at Stanford University and a senior fellow at the Stanford Institute of Economic Policy Research. They succeed Scott Stern, the David Sarnoff Professor of Management at MIT's Sloan School of Management who, along with Adam Jaffe of Brandeis University and Josh Lerner of the Harvard Business School, launched the working group over two decades ago.
The new codirectors have studied a wide range of issues in the field of innovation economics. Jones' research focuses on the contributions of innovation and scientific progress to economic growth. He has been an NBER affiliate since 2005. Williams' research examines the determinants and consequences of technological change, with a particular emphasis on innovation in the healthcare sector. She has been NBER affiliate since 2010, and also is a codirector of the NBER Health Care Program.