Featured Researcher: Sabrina Howell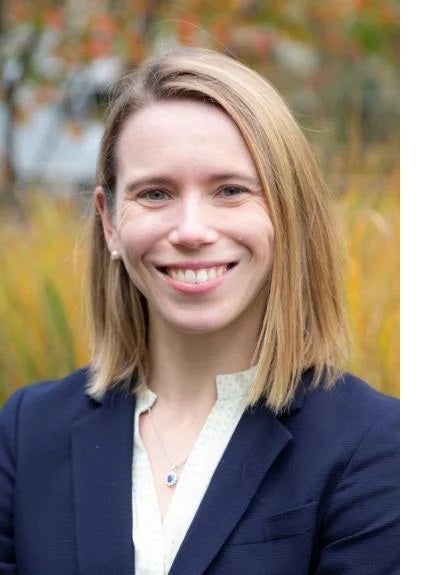 Sabrina Howell got into economics very early, while riding the New York City subway. Her father, an economics professor at The New School for Social Research, showed her how to read graphs while accompanying her on her way to school. As an undergraduate at Yale majoring in economics and East Asian studies, she became interested in energy and energy security. At the start of her dissertation research at Harvard, while exploring issues in energy and environmental economics, she discovered the "green tech" startup systems around nearby Kendall Square and became interested in how they were being financed.
Now Howell, a tenured associate professor of finance at New York University's Stern School of Business and an NBER research associate affiliated with the Productivity, Innovation, and Entrepreneurship Program, pursues a wide range of topics related to the funding of new and established businesses, fintech, and the financing of innovation, in particular as it pertains to high-growth scientific startups. Her recent research reflects some of the complementarities among those broad interests, touching on the way automated processing of loans in the Paycheck Protection Program reduced race-biased decision-making, especially in areas of high racial animus, on the necessary conditions for effective public sector investment in innovation, and on the efficacy of policy tools that subsidize high-growth entrepreneurship and innovation in the US. This year, Howell was named one of the Best 40-Under-40 MBA Professors by Poets & Quants, a leading platform for news about business and management education. She is an associate editor of The Review of Financial Studies and The Review of Corporate Finance Studies, has served as an associate editor of Management Science, and is a fellow at the Asian Bureau of Finance and Economic Research and a research fellow at the Institute for Private Capital. Her work has been published in leading finance and economics journals. 
"I once had hobbies," she says with a laugh. "Now I have two small children." Nevertheless, a love of horseback riding, swimming, and running persists.
---
The NBER's Bulletin on Entrepreneurship, Entrepreneurship Working Group, and related initiatives are supported by the Ewing Marion Kauffman Foundation.