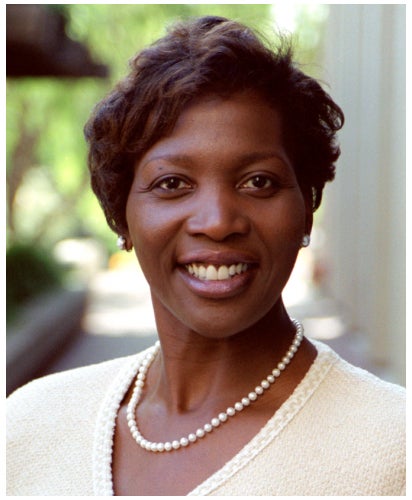 Lisa D. Cook, a professor of economics and international relations at Michigan State University and a research associate in the NBER programs on the Development of the American Economy and Productivity, Innovation, and Entrepreneurship, studies economic growth, including racial and gender disparities among entrepreneurs and innovation workers in STEM fields.  She has been particularly focused on identifying the barriers to minority participation in the innovation process at various points in career lifecycles, as well as the impact of disparities in participation on long-term economic growth.  Her research has been supported by the National Science Foundation, the Economic History Association, Harvard Business School, and other organizations.
Cook, who speaks English, French, Russian, Spanish, and Wolof, was the first Spelman College graduate to be awarded a Marshall Scholarship. She holds a bachelor of arts degree in philosophy, politics, and economics from the University of Oxford, as well as a PhD in economics from the University of California, Berkeley.  Prior to joining the Michigan State faculty, she taught at Harvard University's Kennedy School of Government and was a deputy director for Africa research and programs at the school's Center for International Development. She also served as managing editor of the Harvard University-World Economic Forum Africa Competitiveness Report.
Cook has complemented her research on diversity and inclusion in entrepreneurship with a range of other professional activities. She serves on the advisory boards of the Opportunity and Inclusive Growth Institute of the Federal Reserve Bank of Minneapolis and the Lemelson Center for the Study of Invention and Innovation at the Smithsonian Institution. She also serves as the director of the American Economic Association's Summer Training Program, an initiative that has historically been an important on-ramp to careers in economics for students from underrepresented minority groups.
Cook has also been active in a number of policy roles. She was a senior adviser on finance and development at the US Treasury Department, 2000-01, and a senior economist on President Obama's Council of Economic Advisers in 2011-12. With coauthor Jeffrey Sachs, she advised the governments of Nigeria and Rwanda. She is a member of the board of directors of the Federal Reserve Bank of Chicago.  In January of this year, President Biden nominated her to serve on the Board of Governors of the Federal Reserve System.