Economics of Research and Innovation in Agriculture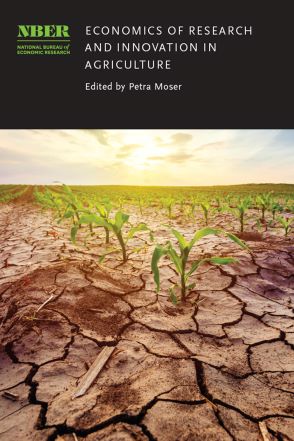 Petra Moser, editor
With constraints tightening on water, arable land, and other natural resources, feeding the world's growing population is a critical challenge for the 21st century.
Agricultural innovation can help meet the needs of future generations. However, the returns to agricultural R&D are difficult to measure. Many wealthy countries have reduced their share of GDP devoted to agricultural R&D. Dwindling public support leaves universities — historically a major source of agricultural innovation — increasingly dependent on funding from industry, with uncertain effects on the nature and direction of agricultural research. These factors create a need for systematic empirical evidence on the forces that drive agricultural research and innovation.
This volume examines the potential consequences of the shift from public to private sector funding and the changing sources of agricultural innovation. It also addresses the challenges of measuring the returns to adopting new technologies, the interactions between university engagement and scientific productivity, and the role of emerging mechanisms such as agricultural venture capital to fund agricultural R&D.
https://press.uchicago.edu/ucp/books/book/chicago/E/bo123177052.html