Union Army Data - Compiled Military Service Record
---
The Early Indicators project created three primary data sets: Military, Disease, and Census. The Military data set is a collection of wartime records (Regimental Records, Compiled Military Service Records, and Carded Medical Records) and post-war pension records.
The National Archives and Records Administration in Washington, D.C. holds the Compiled Military Service Records (examples shown below) of the United States Regular Army of officers (1789-1916) and enlisted recruits (1789-1912) during both peacetime and wartime, as well as those of Confederate soldiers and of persons serving during wartime in volunteer units raised by states and mustered into federal service (1775-1903), RG 94.
The CMSR of both volunteer officers and enlisted men serving in wartime normally show the soldier's rank, military organization, and term of service. They also include:
age at enlistment
place of enlistment
place of birth
The CMSR for each recruit consists of an envelope of cards with information about the recruit transcribed by War Department clerks. The clerks transcribed the information on the cards from:
muster rolls
descriptive books
returns (statistical reports submitted to the Adjutant General Office or the War Department by organizations such as hospitals or forts)
hospital registers, prison records, and other records
Cards are arranged first by war, then by state, then by military unit, and finally alphabetically by the soldier's last name.
The transcription of a soldier's military record into what is known today as a CMSR started soon after the Civil War when Fred C. Ainsworth assumed the duties of Adjutant General. His aim in having the military records transcribed was twofold: first, to preserve the information found on decaying original records, and second, to eliminate the serious backlog of pension applications and rulings by making claim checking easier.
Initially, the cards contained:
the soldier's name
rank
company
regiment
whether soldier present or absent with unit in two-month intervals
the page and volume number from which the information was obtained
Most CMSRs also include information that was added later, including:
POW records
casualty information
hospital register information
records of desertions
furloughs
AWOLs
MIAs
copies of enlistment papers
copies of surgeons' certificates of discharge for disability
final statements in the case of a soldier's death in service
inventory of effects
As information from the CMSR was entered into the collection screens (shown below) used by researchers, it was compared with information already collected in the Regimental Record (RR). When the CMSR seriously conflicted with existing information, the researcher attempted to reconcile the previously entered data with the more straightforward CMSR. Military information that came from the CMSR was judged to be more accurate than conflicting information from other records, which may have been retrospective and self-reported.
To view videos on the MSR data collection process, please visit our Youtube channel, or go directly to the MSR collection video.
To download datasets from the Union Army project, please visit the list of data samples.
Muster and Descriptive Roll
Image of a recruit's muster and descriptive roll card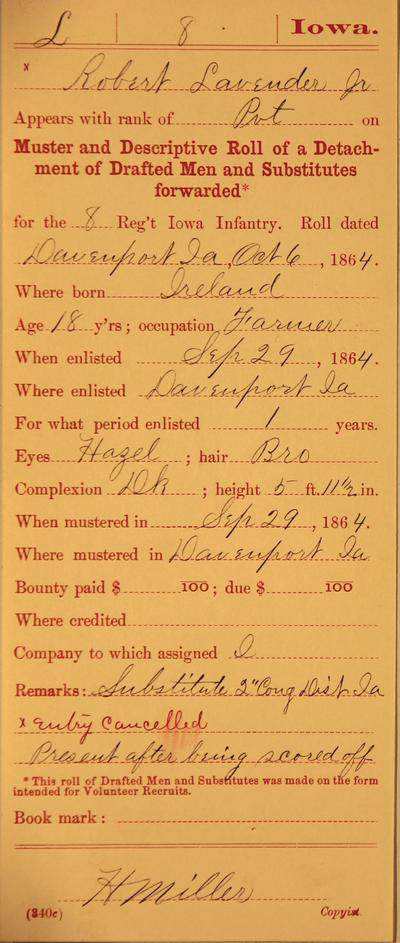 Company Book Card
/image of a descriptive company book card
Muster Roll Card
Image of a recruit's muster roll card for September and October, 1964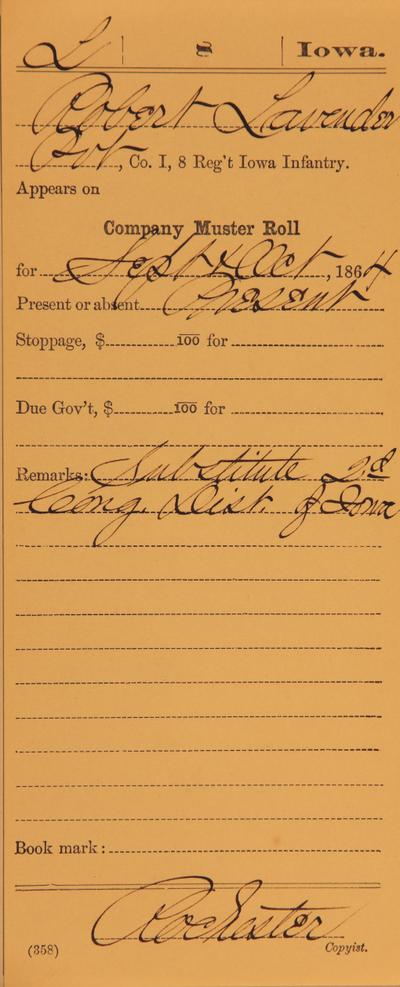 Muster Roll Card
Image of a recruit's muster roll card for November and December, 1864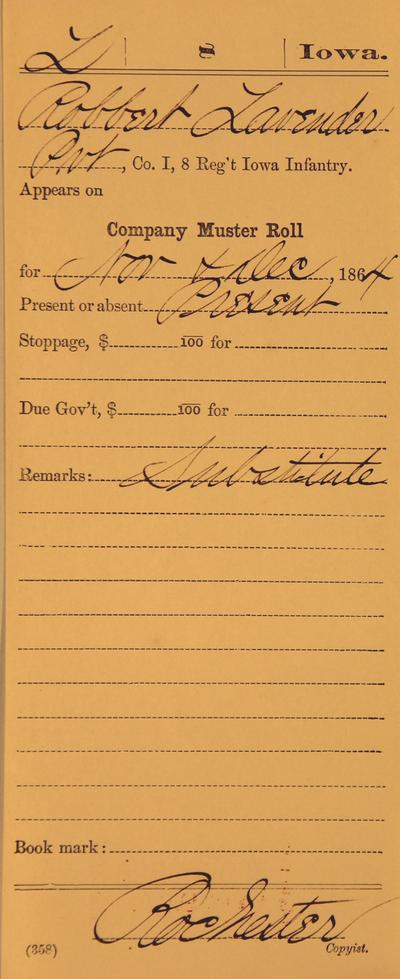 Muster Roll Card
Image of a recruit's muster roll card for January and February, 1865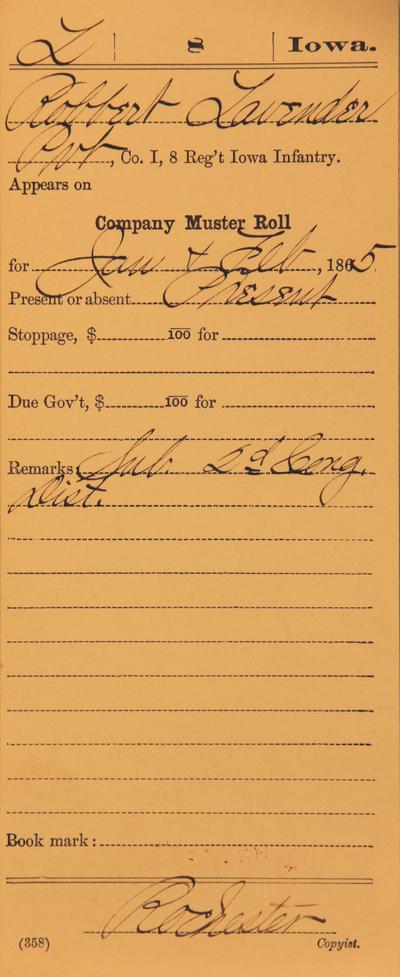 Muster Roll Card
Image of a recruit's muster roll card for March and April, 1865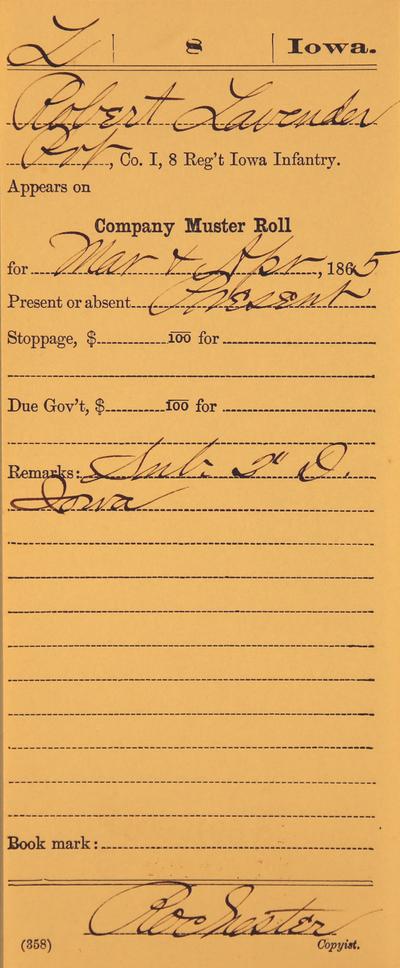 Muster Roll Card
Image of a recruit's muster roll card for May and June, 1865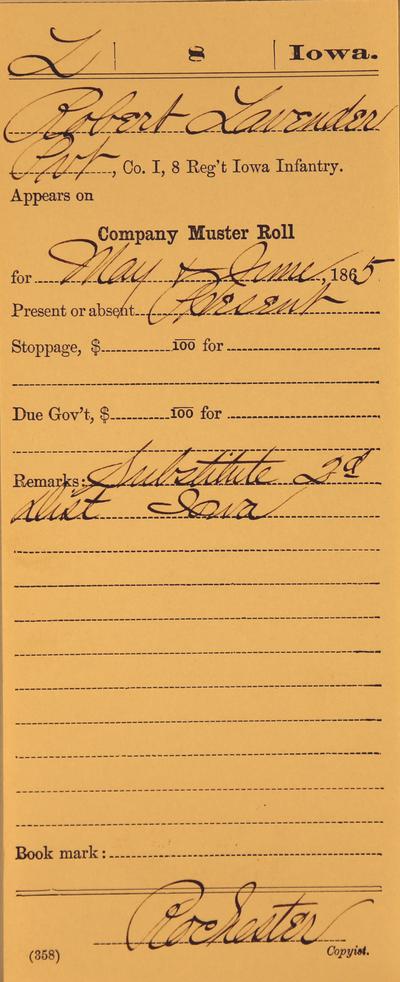 Muster Roll Card
Image of a recruit's muster roll card for July and August, 1865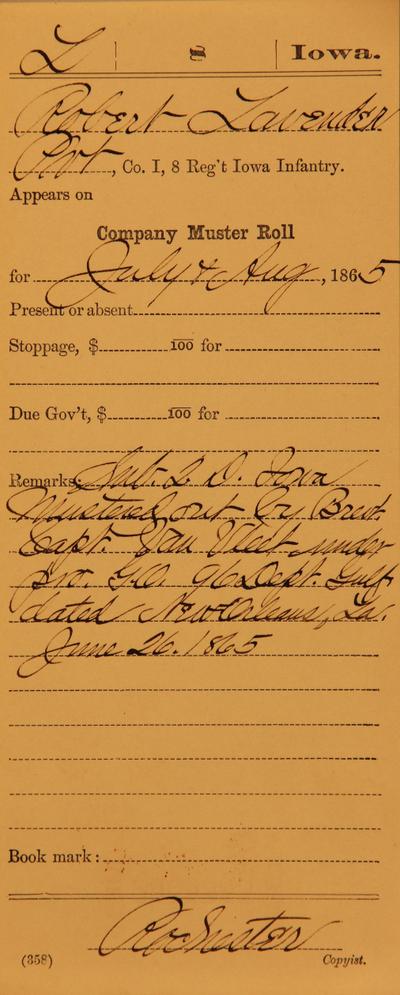 Muster Out Card
Image of a muster out card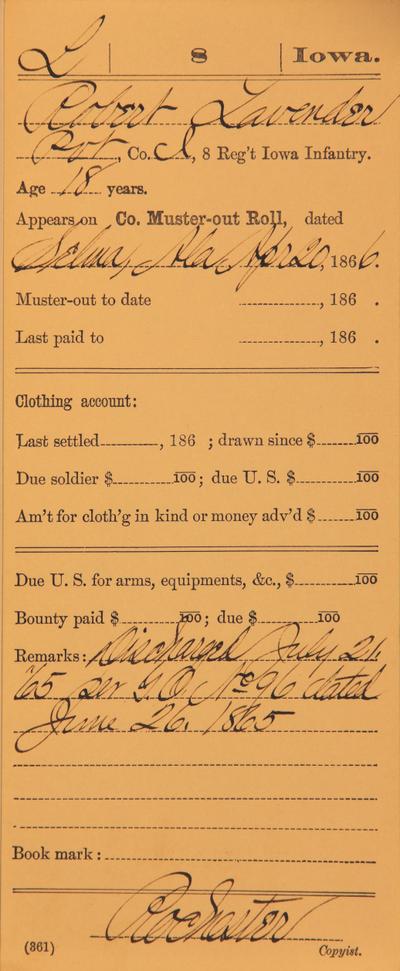 Detachment Muster Out Roll Card
Image of a recruit's detachment muster out roll card

Returns Card
Image of a recruit's returns card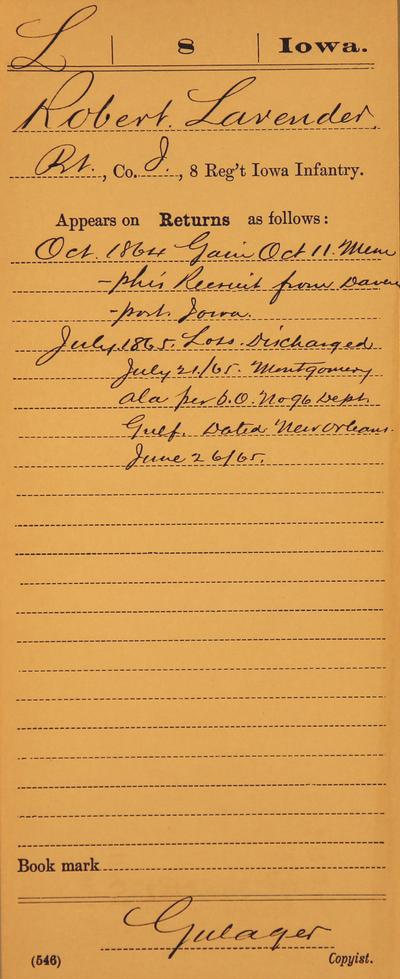 Inner Envelope
Image of the inner envelope of a recruit's military service record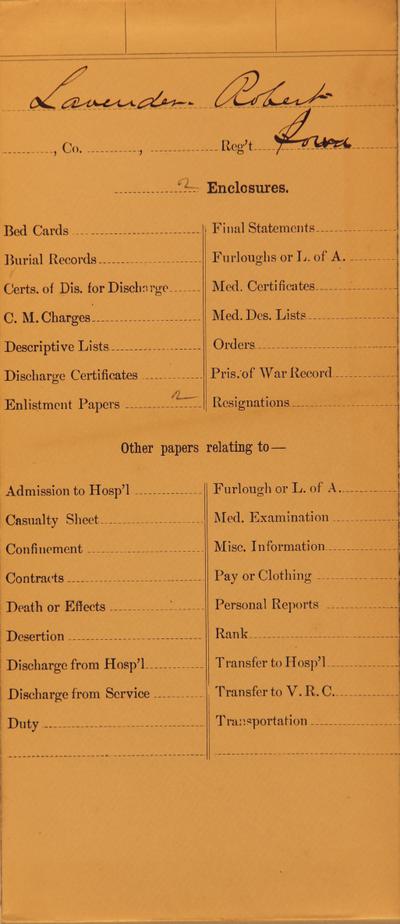 Substitute Volunteer Enlistment Form
Image of a recruit's substitute volunteer enlistment form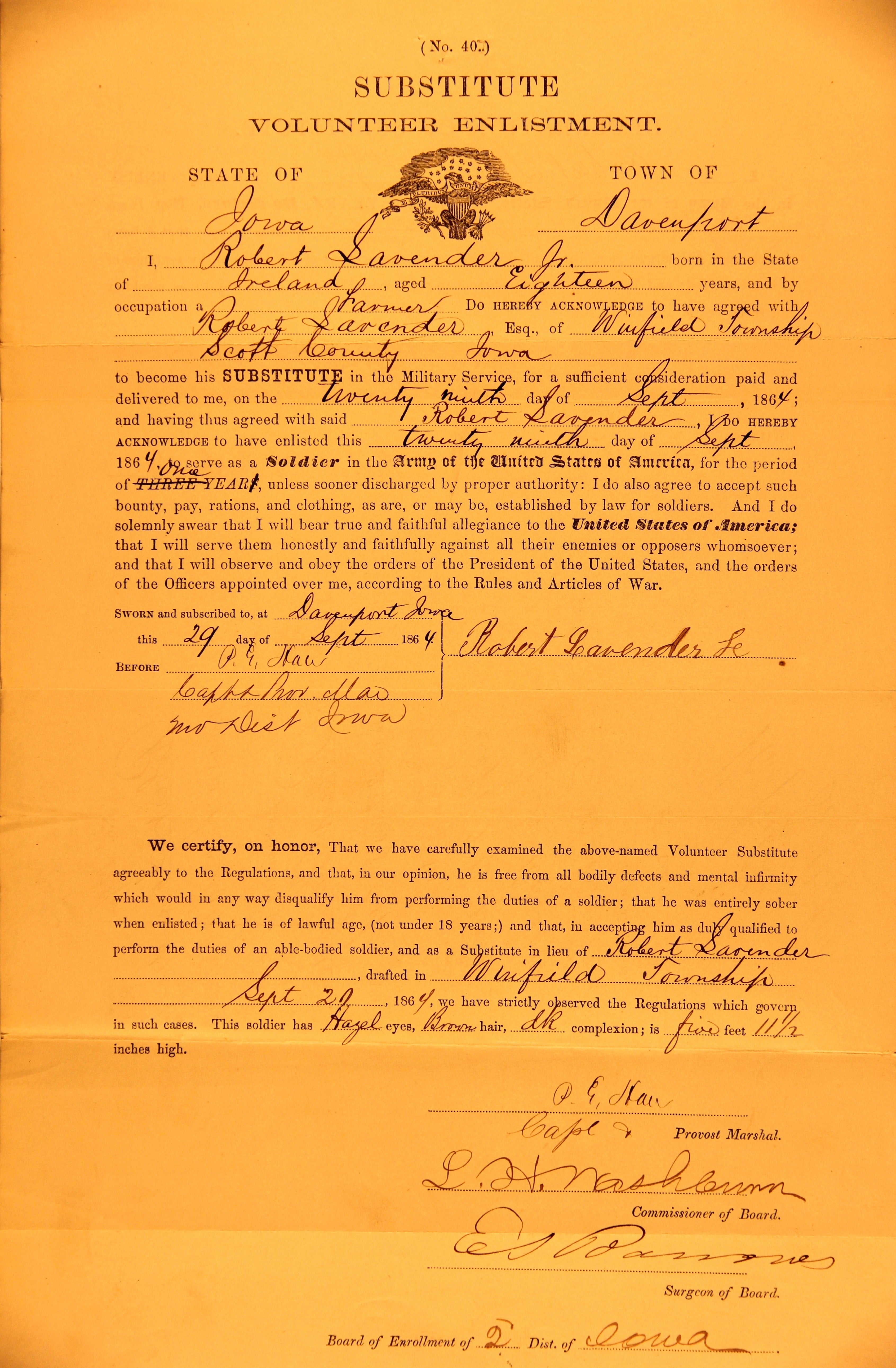 Declaration of Substitute
Image of the Declaration of Substitute form accompanying the previous slide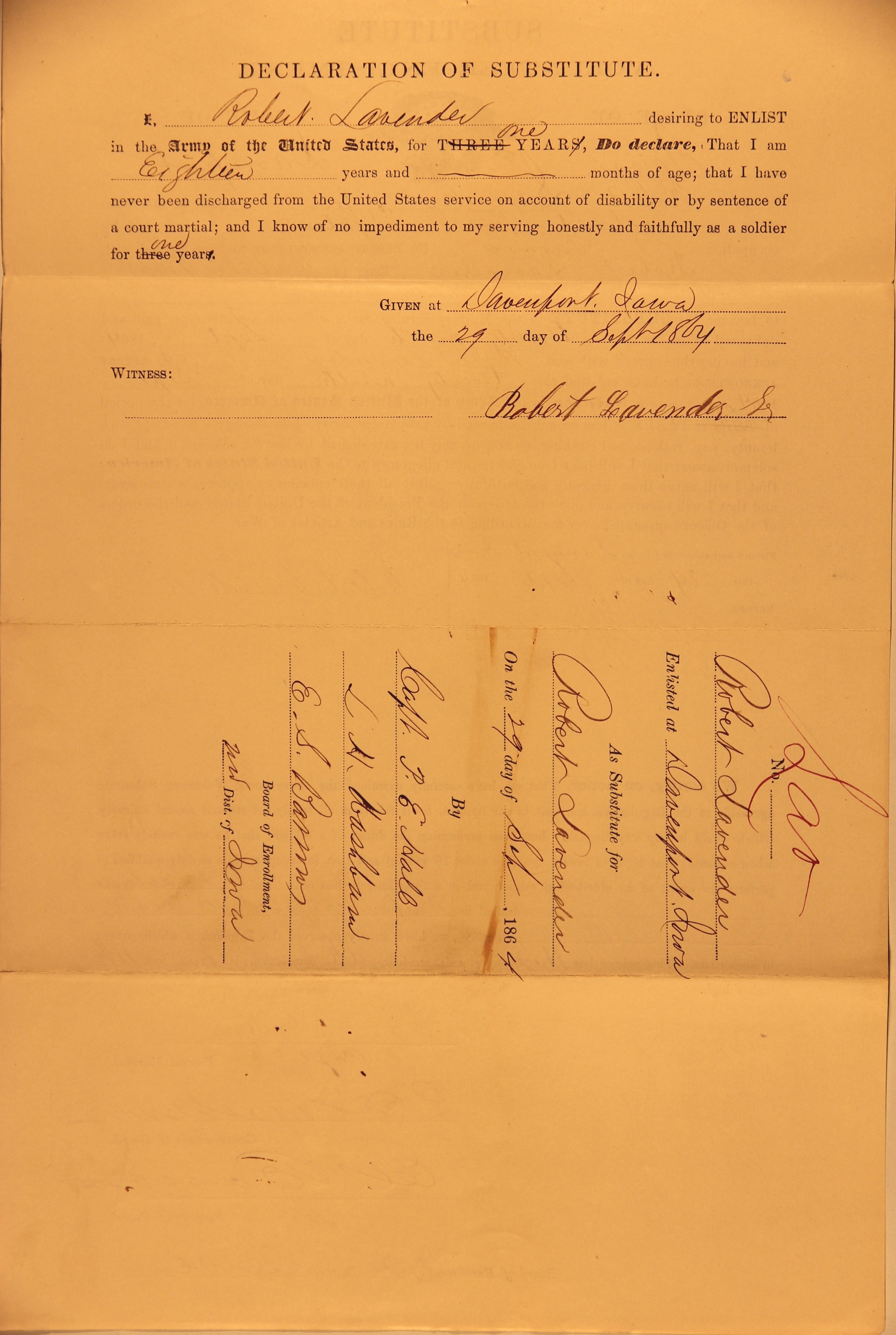 Individual Muster Out Roll
Image in a single recruit's muster out roll card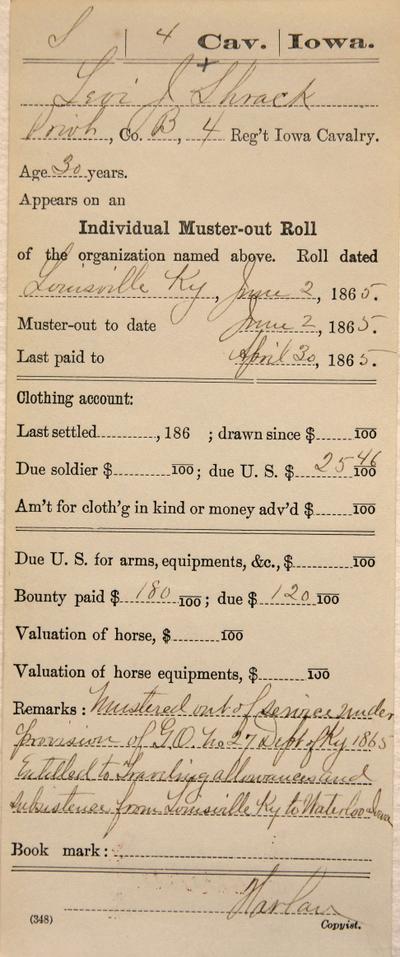 Volunteer Enlistment Form, page 1
Image of a recruit's volunteer enlistment form, page 1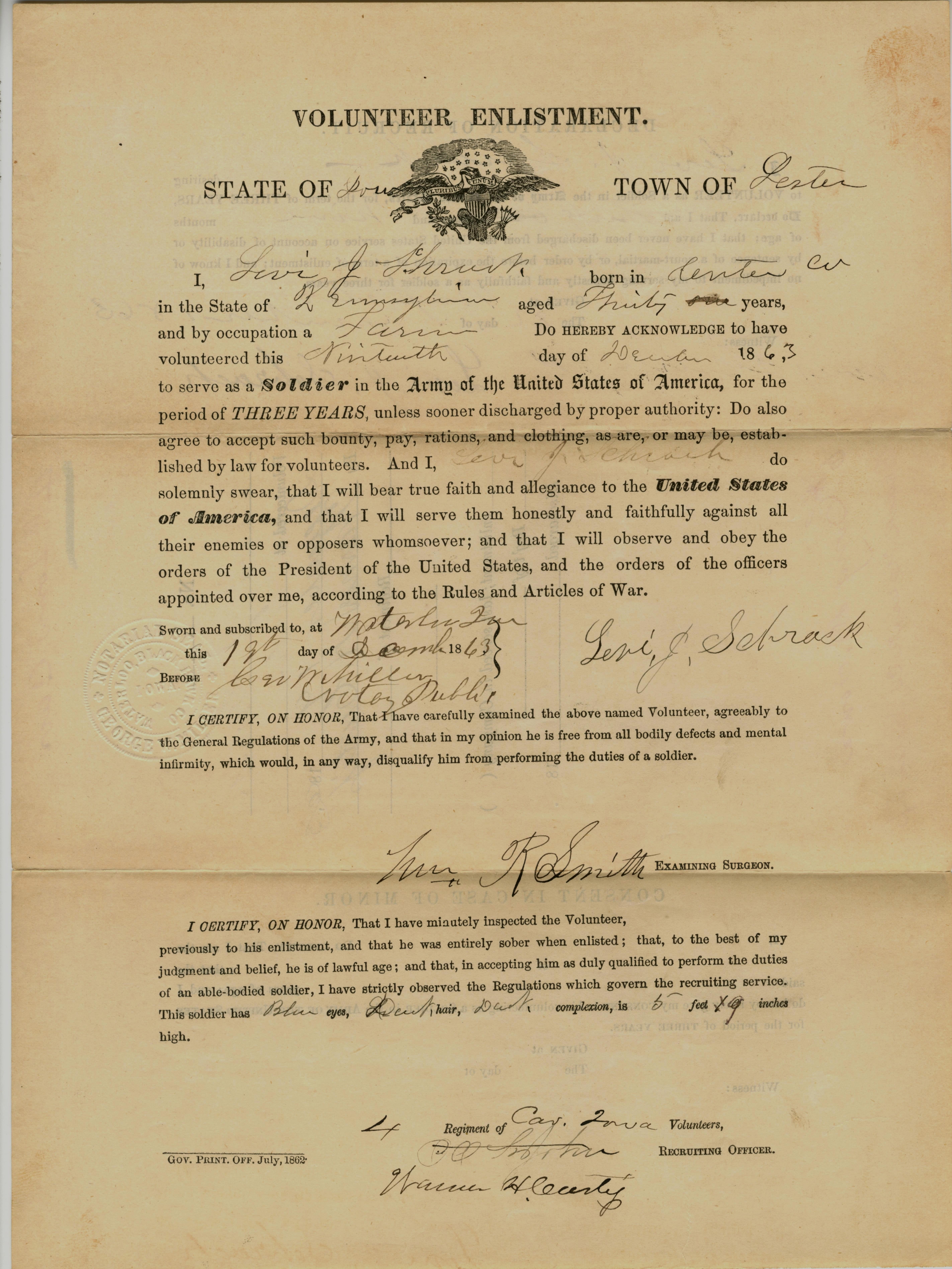 Volunteer Enlistment Form, page 2
Image of a recruit's volunteer enlistment form, page 2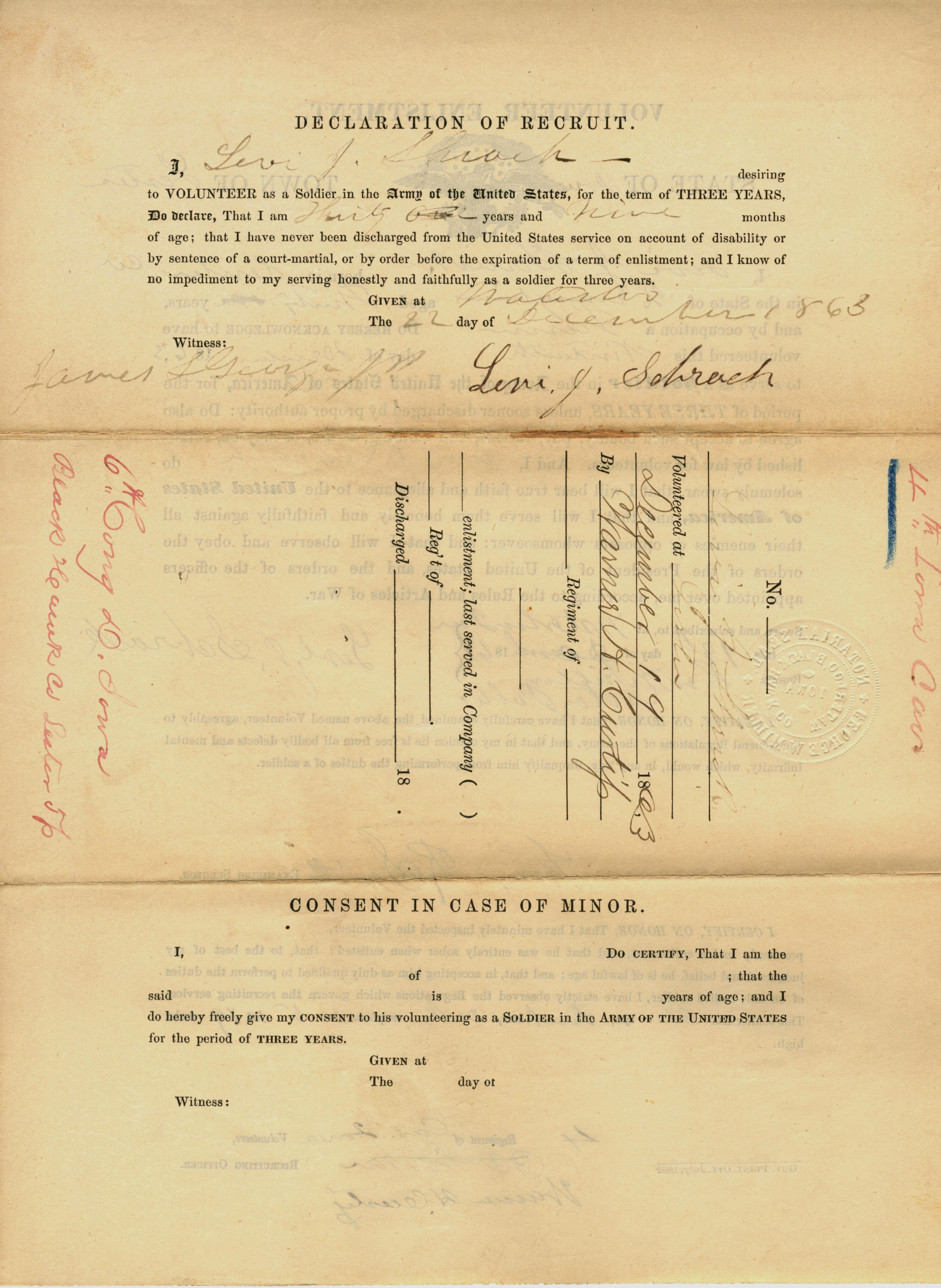 Enlisted Slave Compensation, Page 1
Image of a claim for compensation for an enlisted slave, page 1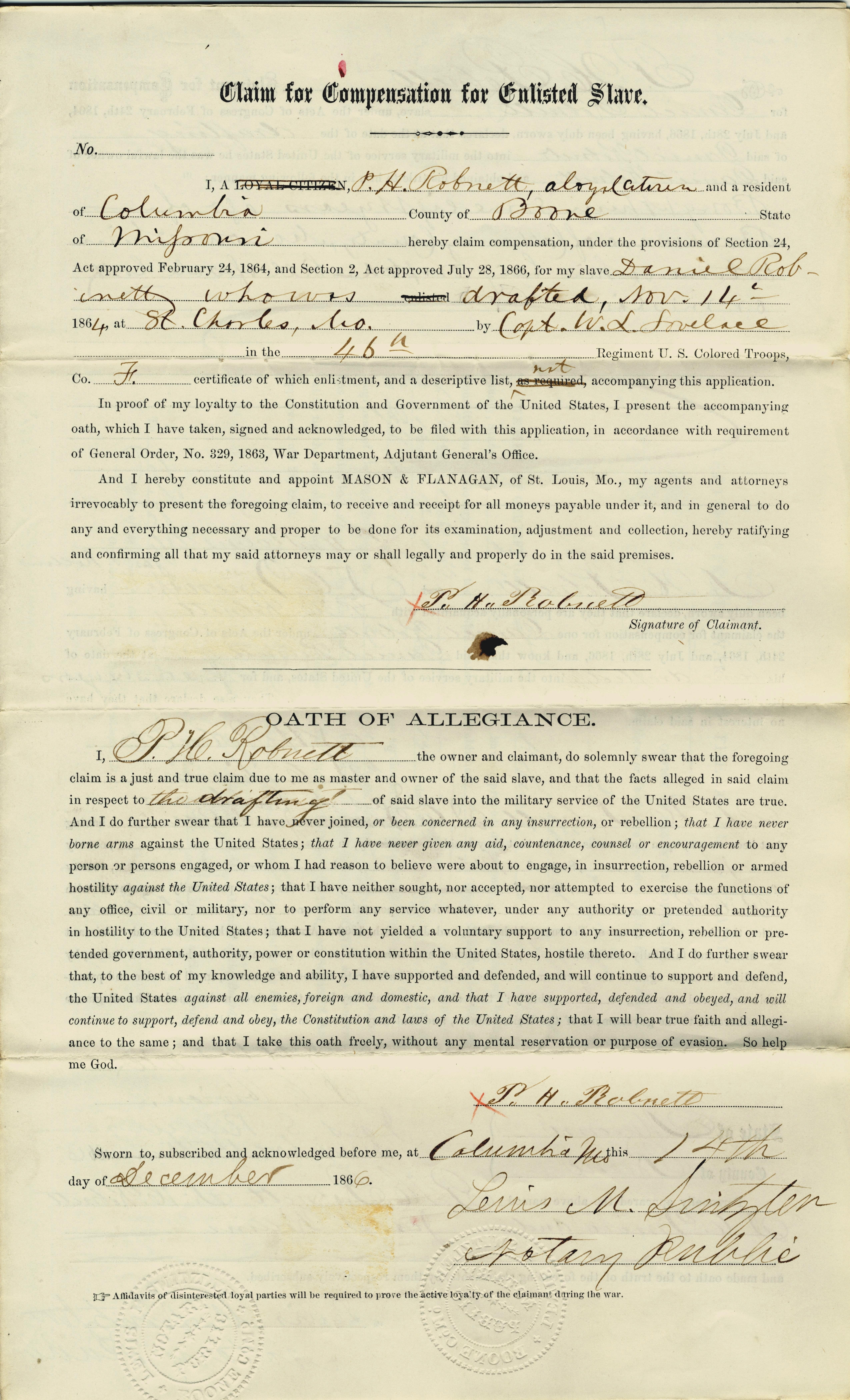 Enlisted Slave Compensation, Page 2
Image of a claim for compensation for an enlisted slave, page 2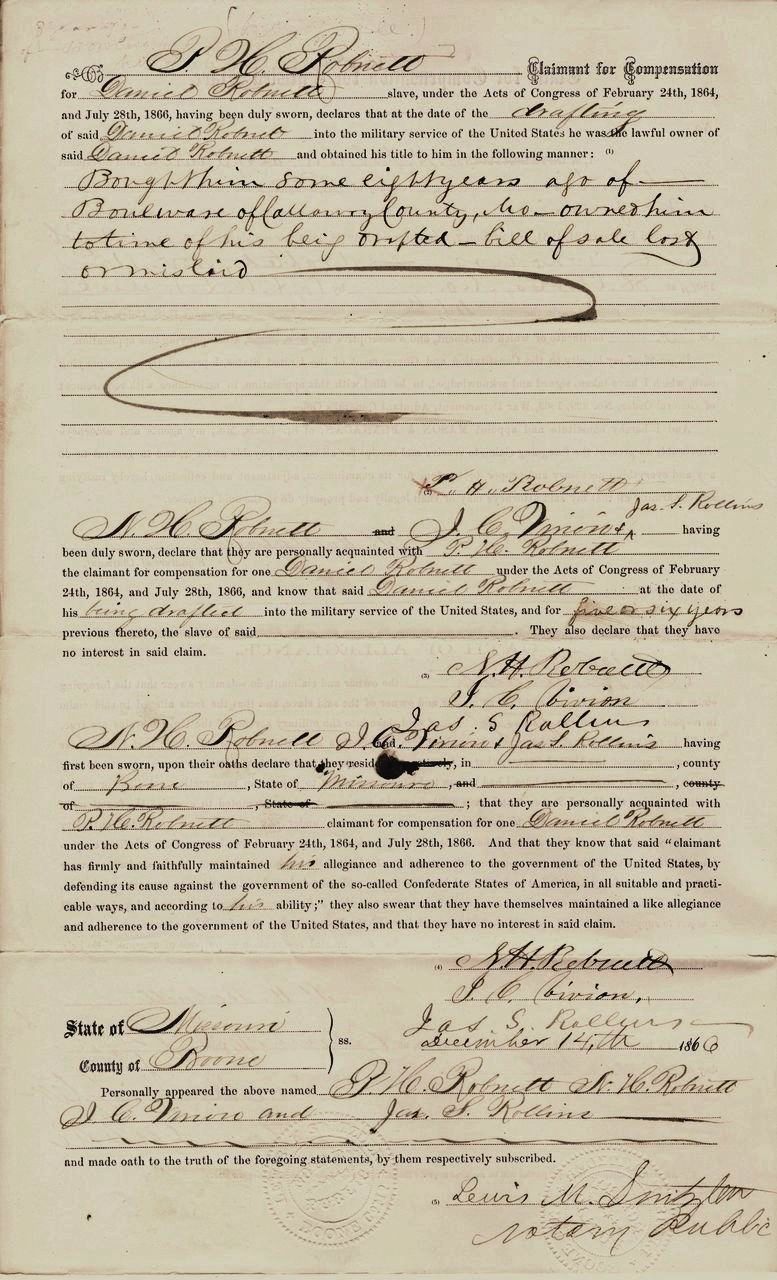 Certification of Enlisted Slave Compensation
Image of a document certifying the claim for compensation of an enlisted slave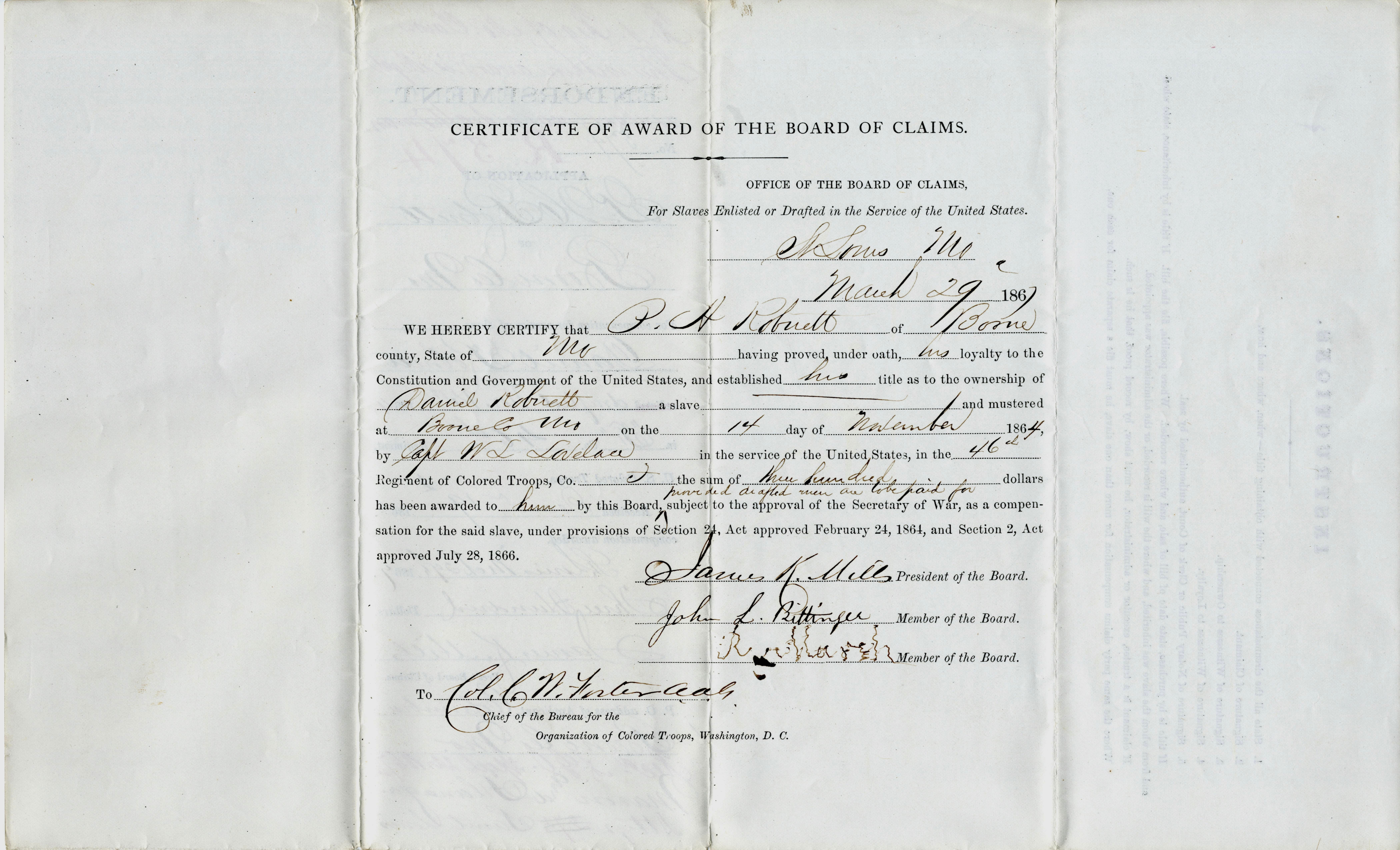 Hospital Bed Card, Side 1
Image of the front side of a hospital bed card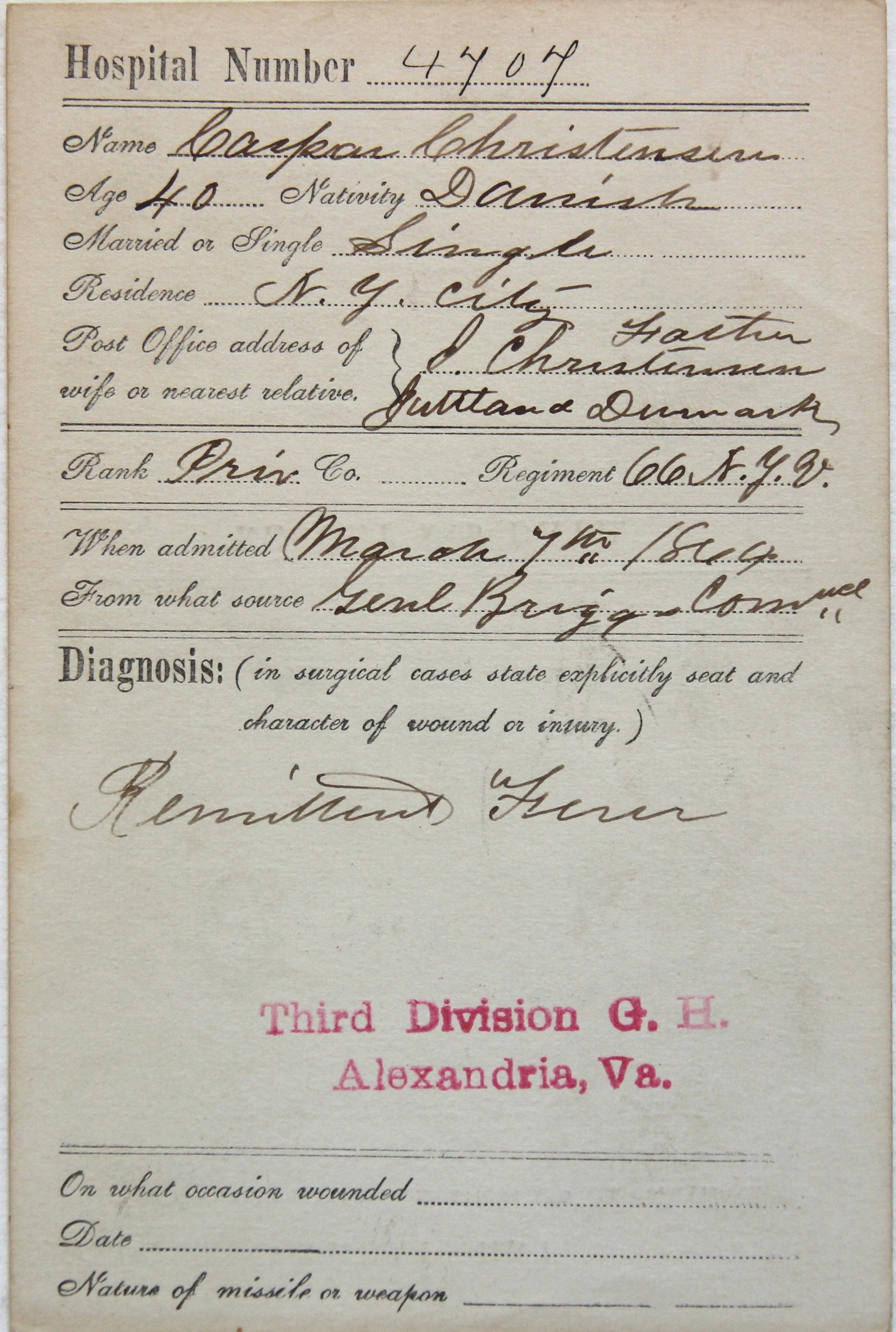 Hospital Bed Card, Side 2
Image of the back side of a hospital bed card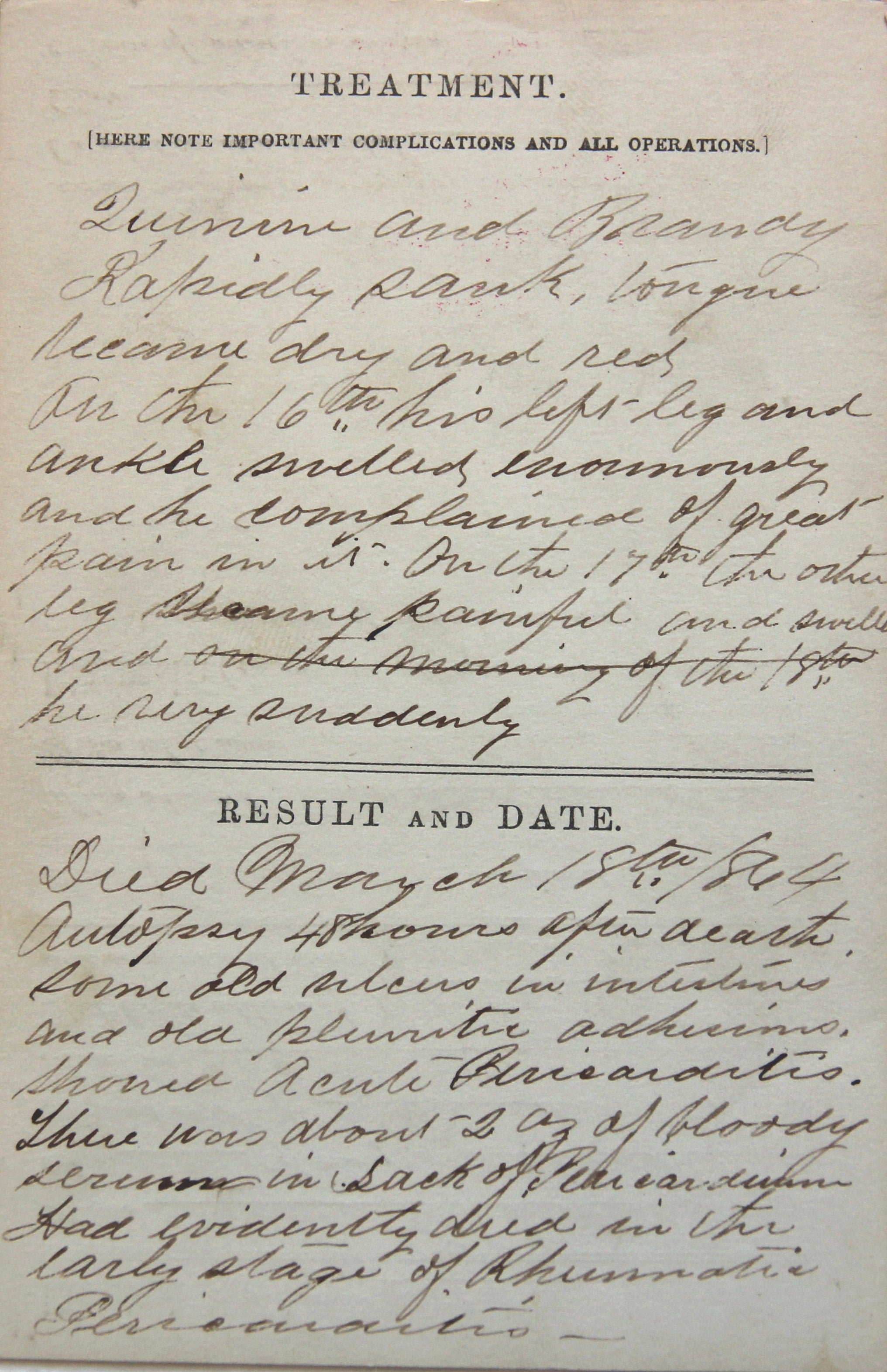 Death and Interment
Image of a death and interment record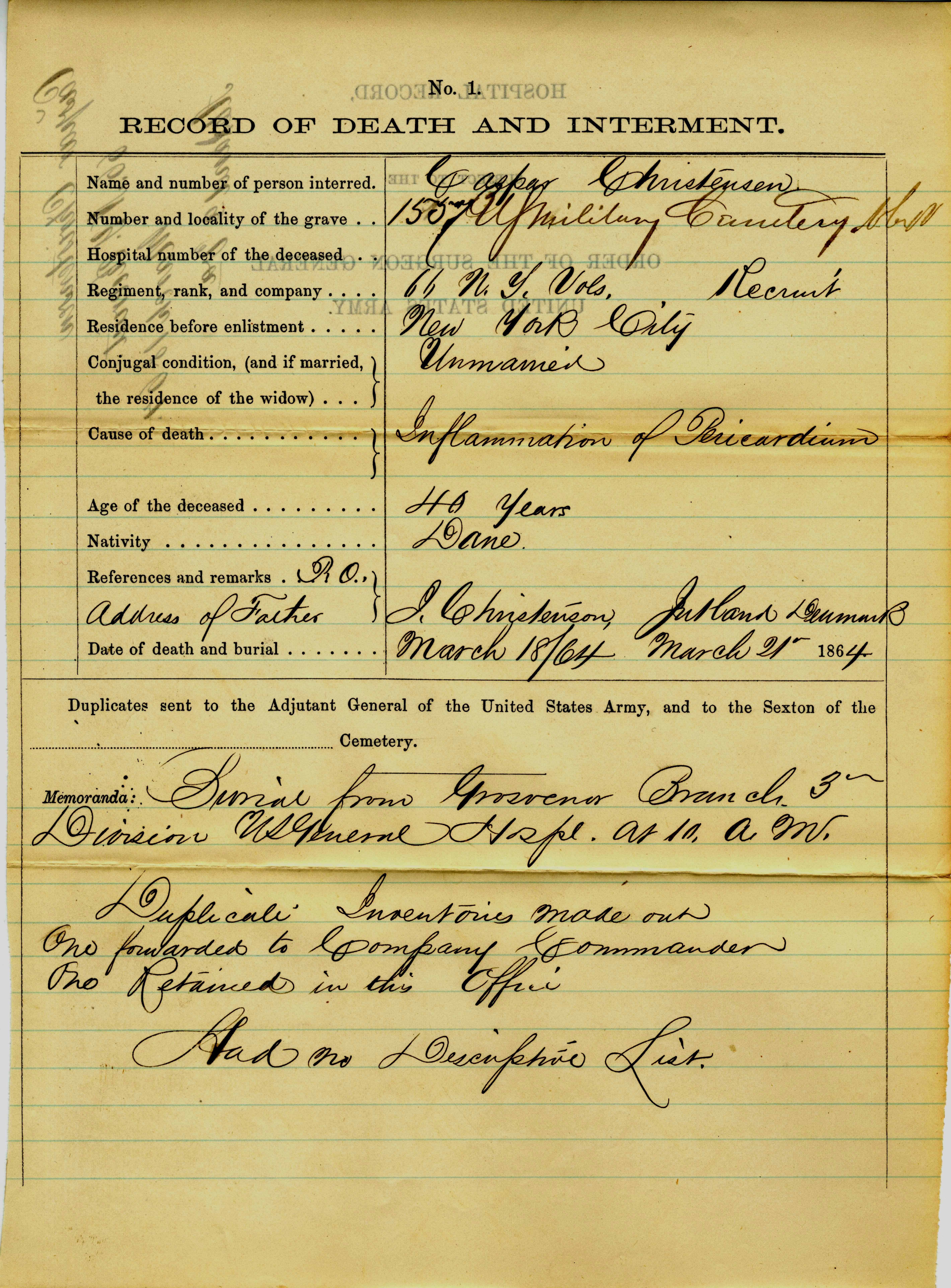 Prisoner of War, Side 1
Image of the front side of a prisoner of war record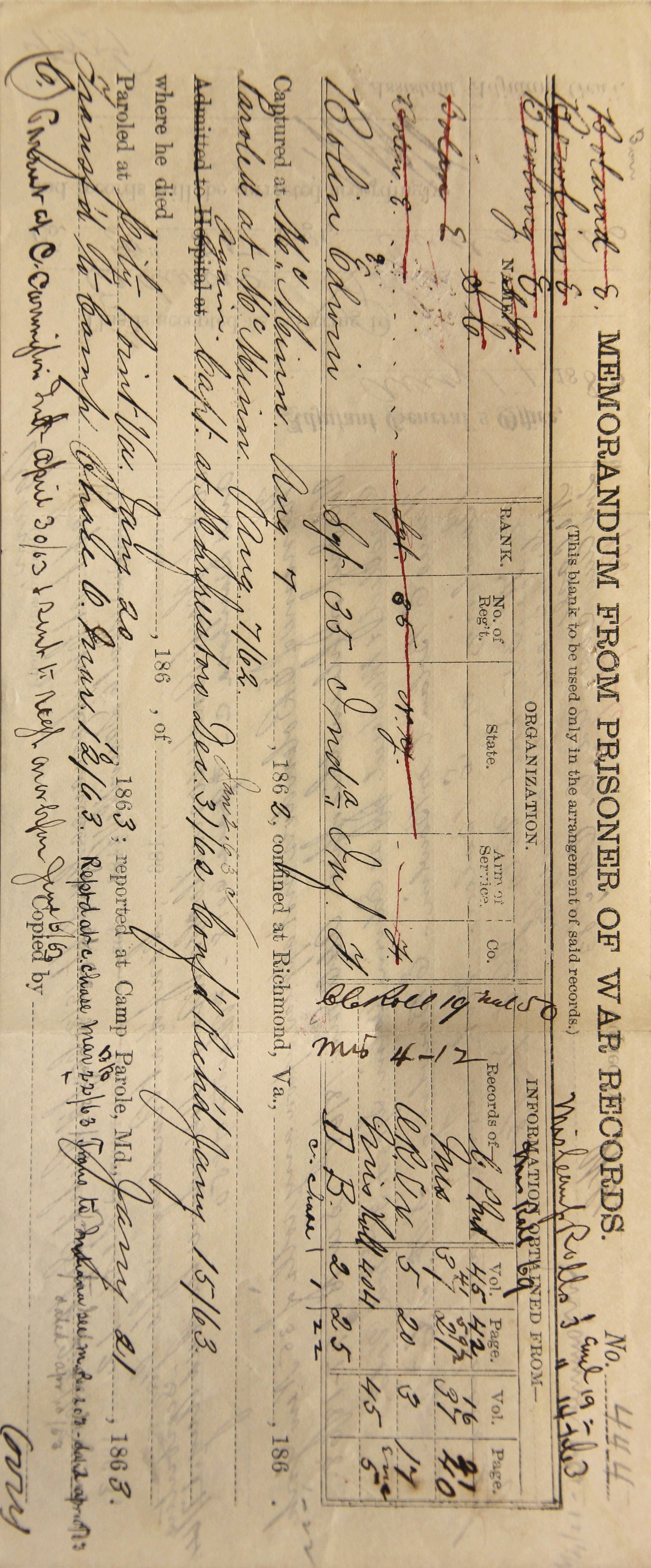 Prisoner of War, Side 2
Image of the back side of a prisoner of war record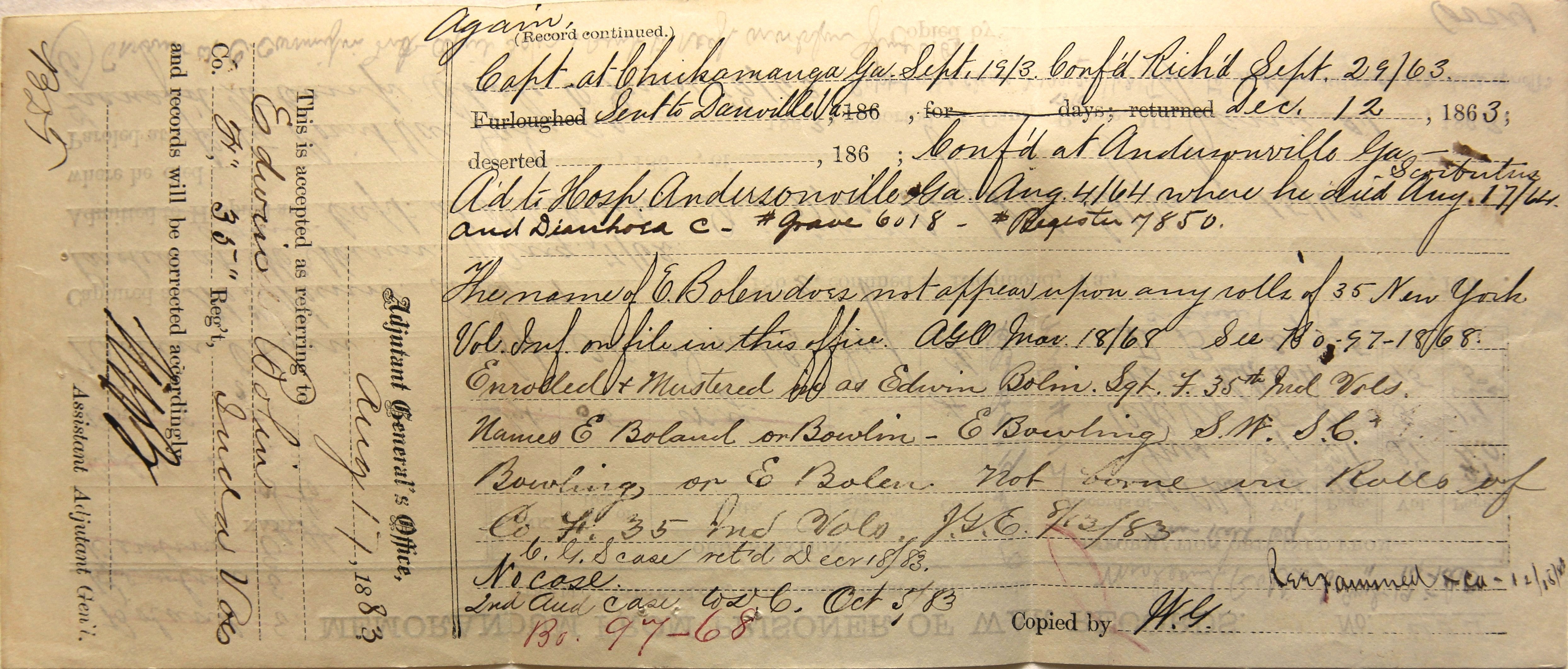 Certificate of Disability for Discharge
Image of a certificate of disability for discharge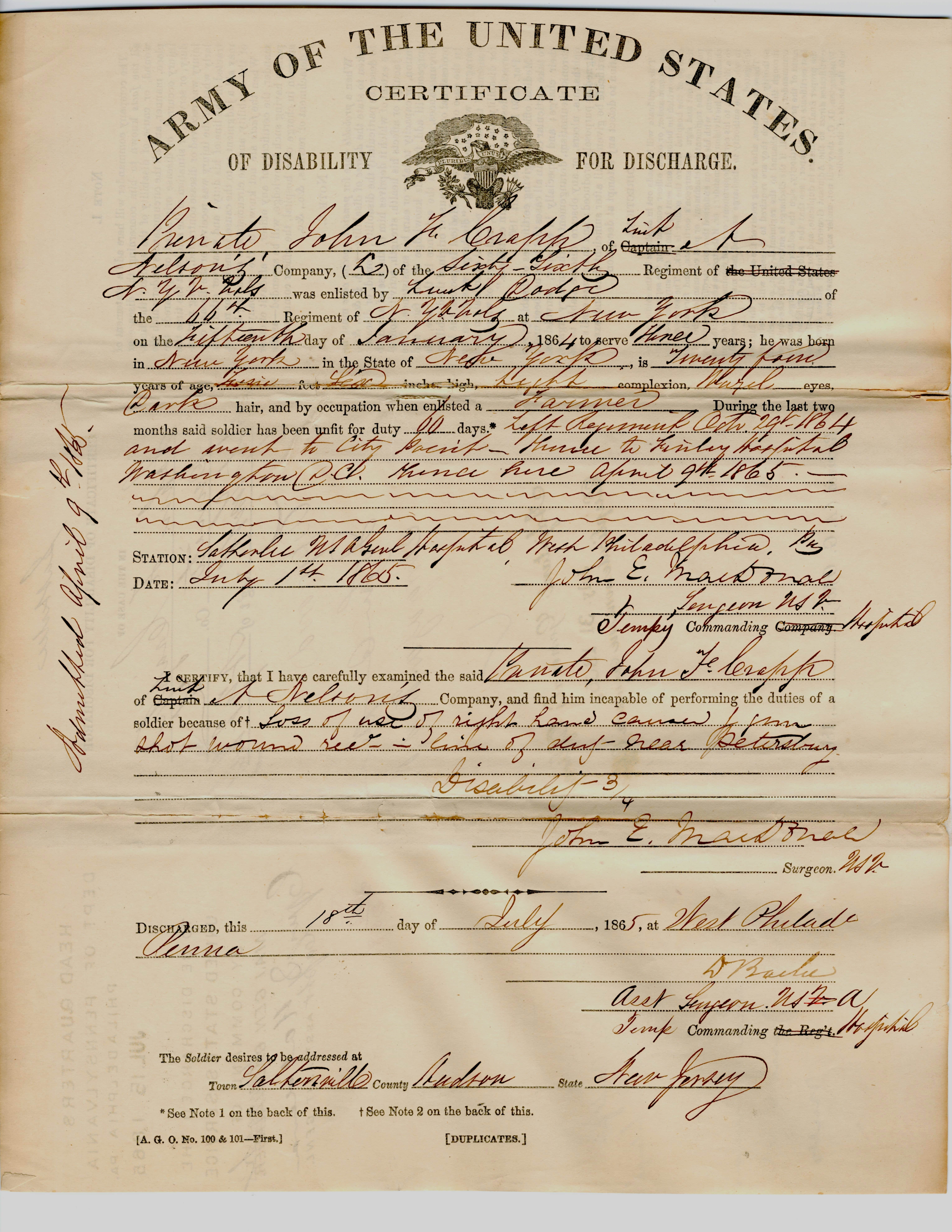 Medical Descriptive List
Image of a medical descriptive list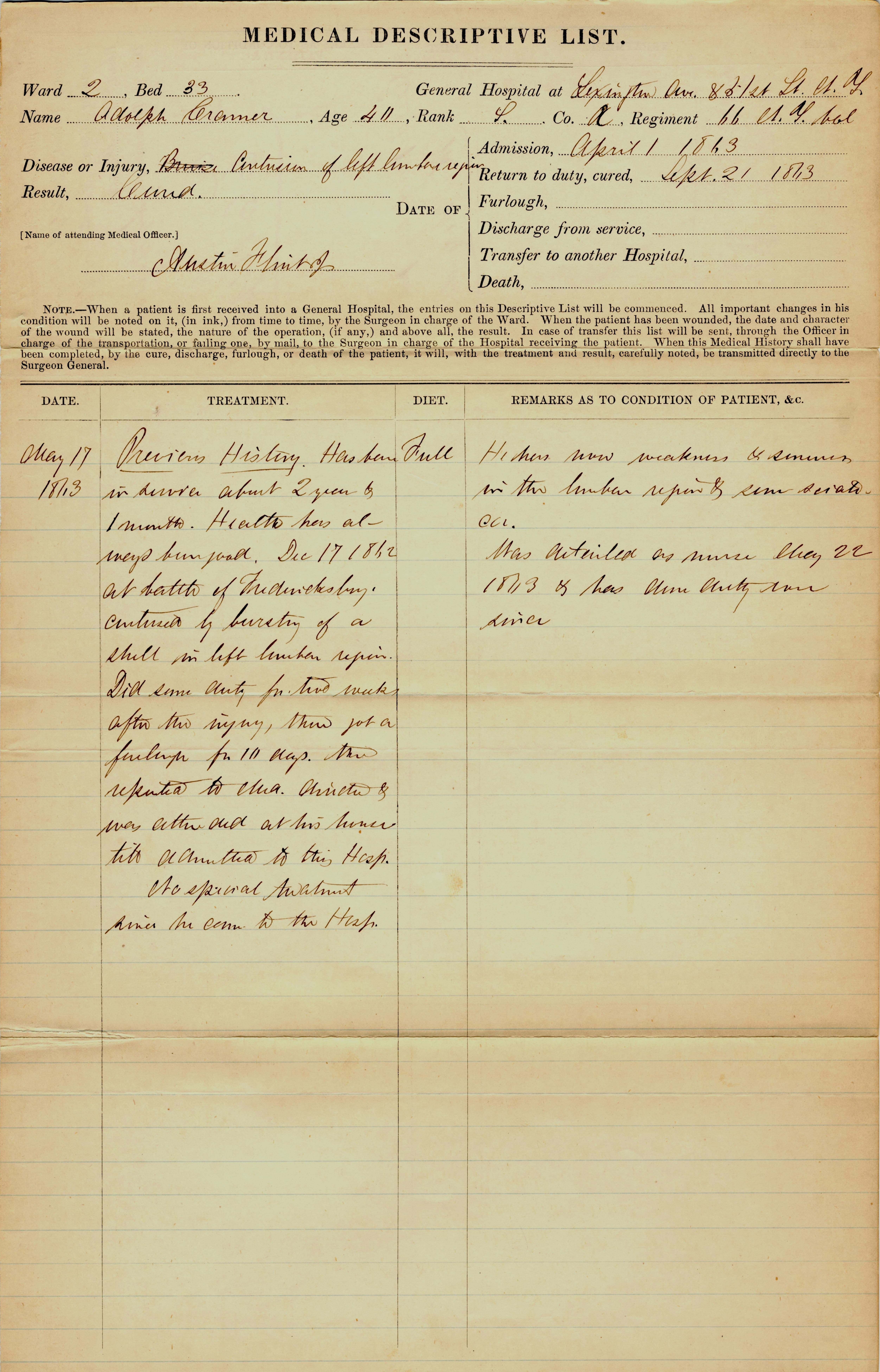 Casualty as Desertion
Image of a record of a casualty as desertion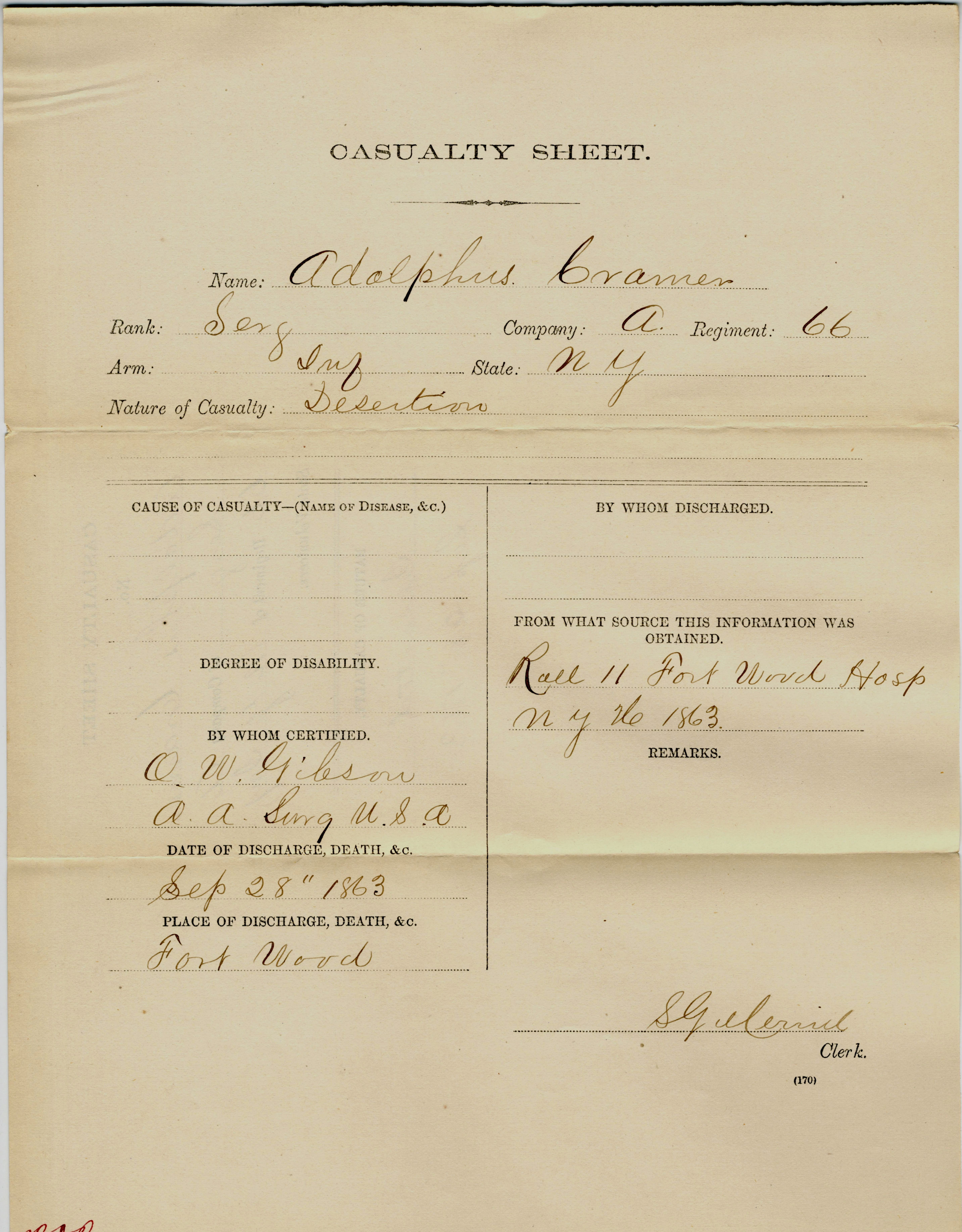 Casualty Sheet
Image of a recruit's casualty sheet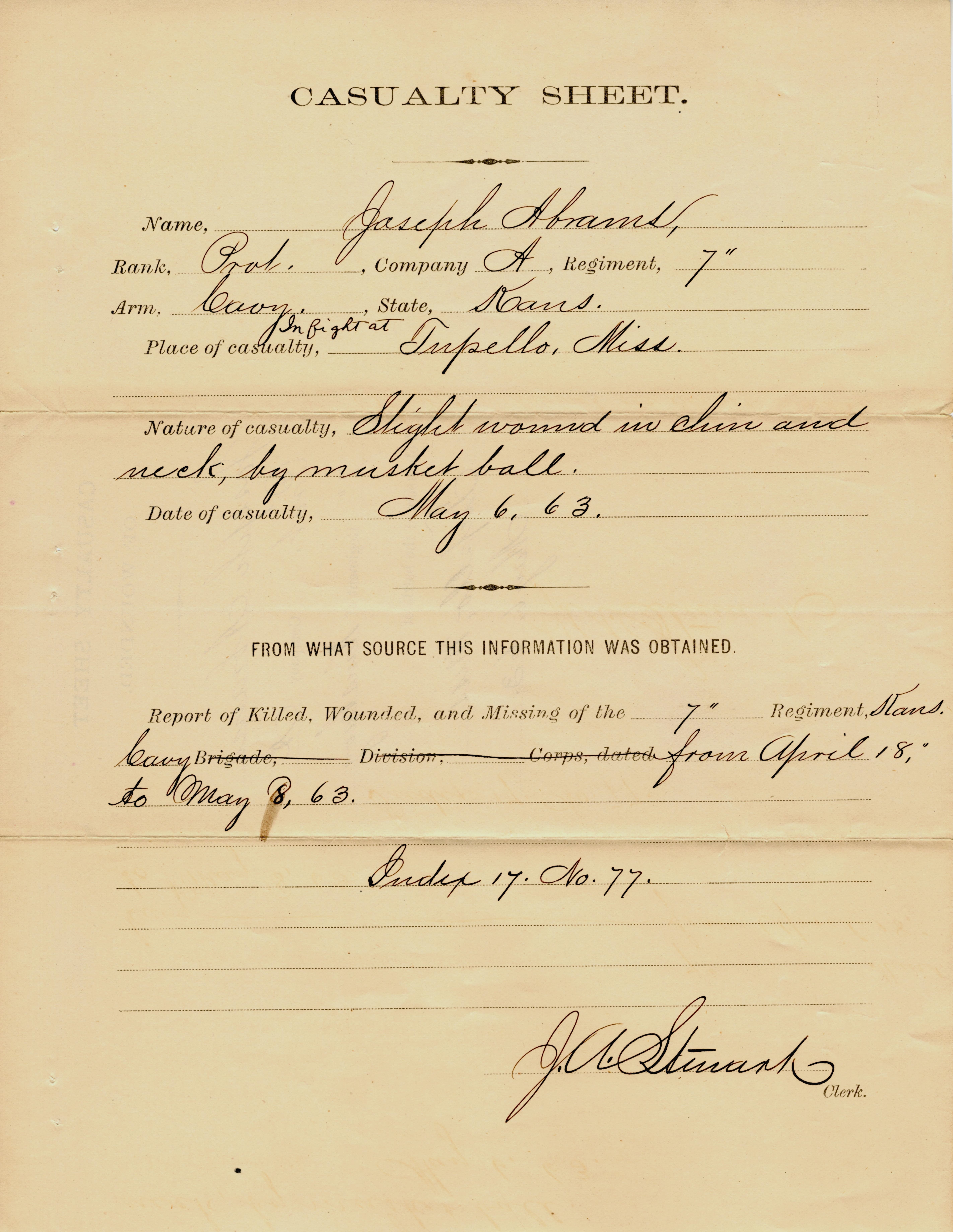 Death Form
Image of a recruit's death form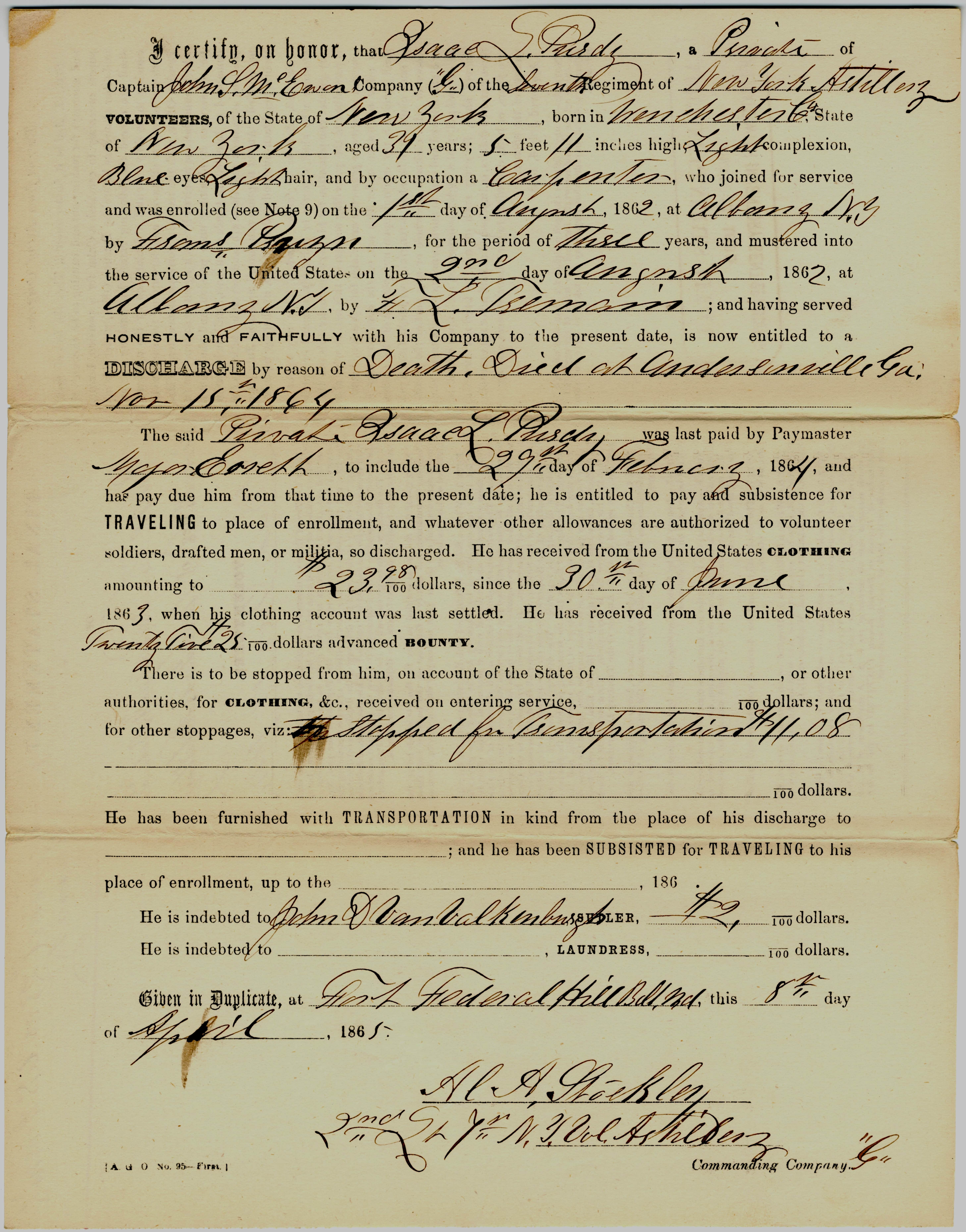 Inventory of Effects
Image of a deceased recruit's inventory of effects