Trebbi and Washington to Codirect Political Economy Program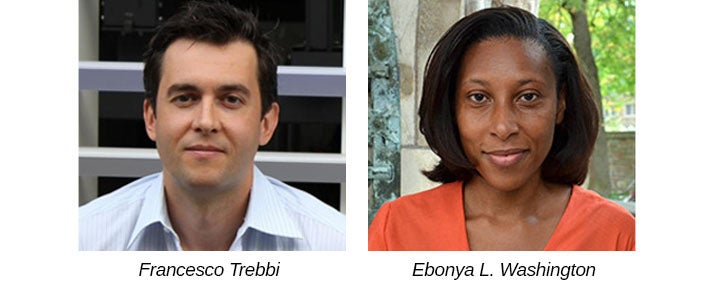 Francesco Trebbi of the University of California, Berkeley and Ebonya L. Washington of Yale University are the new codirectors of the NBER's Political Economy Program, succeeding the late Alberto Alesina of Harvard University, who launched the program in 2006.
The new codirectors have studied a wide range of issues that span the field of political economy.

Trebbi is the Bernard T. Rocca Jr. Professor of Business and Public Policy at Berkeley's Haas School of Business. His research focuses on the determinants of polarization, lobbying and its effects, the design of political institutions, and the political economy of financial regulation. He has been an NBER affiliate since 2007.
Washington, an NBER affiliate since 2004, is the Samuel C. Park Jr. Professor of Economics at Yale. Her research examines the links between economic circumstances and political preferences, how candidate attributes affect voter turnout, the determinants of legislators' voting behavior, and the impact of the US Voting Rights Act of 1965. She currently chairs the American Economic Association's Committee on the Status of Minority Groups in the Economics Profession.