AN NBER PUBLICATION
ISSUE: No. 2, June 2021
The Reporter
A free quarterly publication featuring program updates, several summaries of affiliates' research, and news about the NBER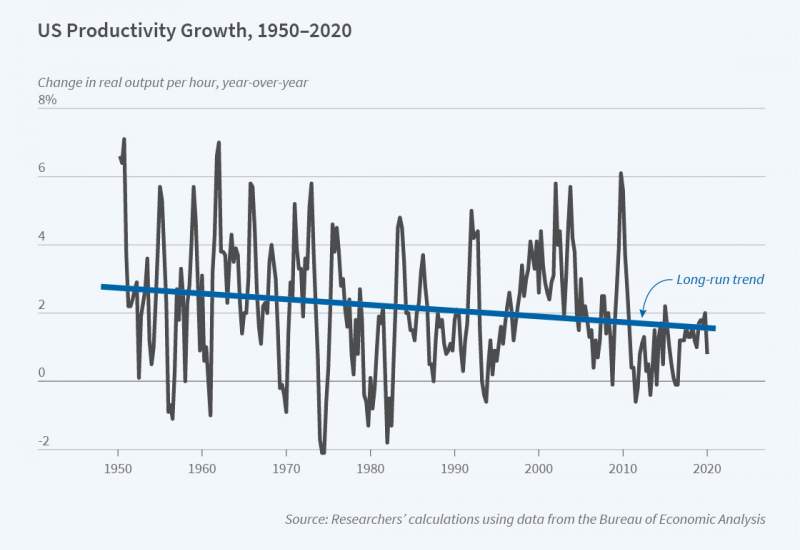 The Productivity, Innovation, and Entrepreneurship (PIE) Program was founded as the Productivity Program, with Zvi Griliches as the inaugural program director, in 1978. The program benefited tremendously from Griliches' inspirational leadership, which was continued by Ernst Berndt. In recent years, the program has expanded to incorporate the vibrant and growing body of research in the affiliated fields of innovation and entrepreneurship. With the generous support of the...
Research Summaries
Books
Article

Martin Eichenbaum and Erik Hurst, editors https://www.journals.uchicago.edu/toc/ma/2021/35 The NBER Macroeconomics Annual 2020 presents research by leading scholars on central issues in contemporary macroeconomics. George-Marios Angeletos, Zhen Huo, and Karthik Sastry analyze expectation formation and find that, in response to business cycle shocks, expectations underreact initially but eventually overshoot. This pattern supports models with dispersed, noisy...
Article

Robert Moffitt, editor https://www.journals.uchicago.edu/toc/tpe/2021/35 This volume presents six new studies on current topics in taxation and government spending. Benjamin B. Lockwood, Afras Sial, and Matthew Weinzierl investigate the design of income tax schedules when there is uncertainty about the way taxation affects household behavior. Youssef Benzarti studies the costs of income tax filing, which have risen over time because of the numerous tax forms...
Conferences and Meetings
Article

Immigrants and the US Economy An NBER conference on Immigrants and the US Economy took place online March 11–12. Research Associates Aimee Chin of the University of Houston and Kalena Cortes of Texas A&M University organized the meeting. These researchers' papers were presented and discussed: David N. Figlio and Paola Sapienza, Northwestern University and NBER; Paola Giuliano, University of California, Los Angeles and NBER; Riccardo Marchingiglio, Northwestern...
Article

Monetary Economics Members of the NBER's Monetary Economics Program met March 5 online. Research Associate Joshua K. Hausman of the University of Michigan, Faculty Research Fellow Arlene Wong of Princeton University, and Program Directors Emi Nakamura and Jón Steinsson, both of the University of California, Berkeley, organized the meeting. These researchers' papers were presented and discussed: Carola Binder, Haverford College, and Gillian Brunet, Wesleyan...
Keep Track of New NBER Working Papers with New This Week